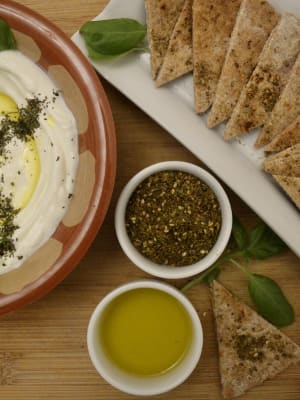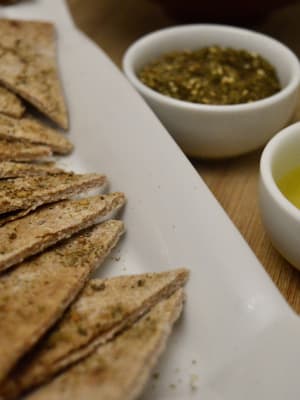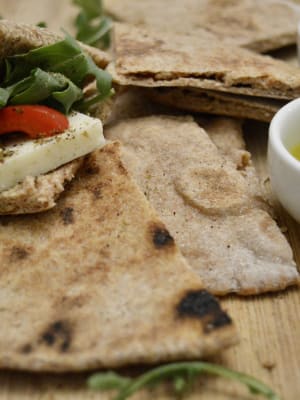 This simple whole grain flat bread is made with spelt flour - an alternative to wheat that is low in gluten. It contains essential minerals; zinc, iron, and magnesium. It's beneficial for heart and bone health, and preventative against osteoporosis. It promotes healthy blood circulation, aids constipation, lowers LDL cholesterol, supports healthy hormones and the development of tissue formation. Spelt flour is a great substitution to wheat and for those who aren't celiac, but prefer to consume less gluten found in conventional wheat.
Instructions
1

Mix spelt flour, za'tar and salt together, then slowly add water little by little until you can form a smooth ball of dough. Use your hands or a mixer.

2

Allow for the dough to sit in a bowl, preferably covered (with a clean kitchen towel) for approximately a half and hour.

3

Divide the dough into 2 equal parts, forming them into large balls.

4

Flour your surface, and roll each ball out into a flat thin circle.

5

Place a flat or crepe pan on high heat, brush the pan with olive oil, and place one flat bread at a time on the pan, cooking each side for about half a minute. Flip and repeat on the other side.

6

Remove the flat bread, place it on a cutting board, cut it into desired triangular shapes, and then cover with a clean kitchen towel.

7

Tip: In order to avoid the bread from hardening, lightly brush it with a butter of your choice and stack flat bread pieces one on top of the other before wrapping them into the towel.
Notice: Content at this site is not intended to prescribe, treat, mitigate, prevent, diagnose or cure any medical condition or its symptoms, which advice should only be obtained from a qualified health professional.