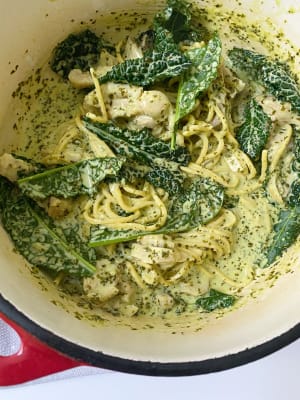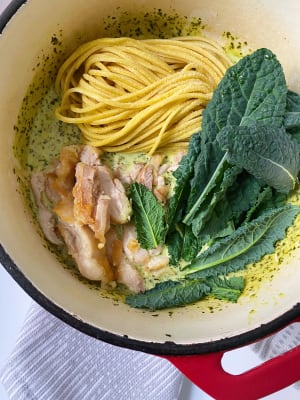 Indulge both your taste and smell with this aromatic, wintergreen coconut pesto pasta. Full of protein from the chicken thighs, and nutrient-rich properties from kale and collard greens.
Instructions
1

Make your Wintergreen Pesto: Add the collard green leaves, lacinato kale, garlic, lemon zest, lemon juice and parmesan to a food processor. Blend until smooth and set aside..

2

Heat 1 tsp oil in a dutch oven or thick bottom saucepan on medium high heat, season the chicken and cook for 3 minutes on the first side and 1 minute once flipped. Remove from the pan and dice.

3

In the same pan add the remaining oil, salt and wintergreen pesto, and cook for 1 minute, until it begins to bubble.

4

Add the coconut milk and chicken stock, bring to a simmer; add the reserved chicken, baby kale and pasta. Cook on the heat for 1 minute, cover, turn off the heat and let stand for 5 minutes.

5

Toss and serve hot.
Notice: Content at this site is not intended to prescribe, treat, mitigate, prevent, diagnose or cure any medical condition or its symptoms, which advice should only be obtained from a qualified health professional.