Whole Roasted Chicken with Fennel
Recipe by Jaclyn Irwin


Ingredients
Serves 04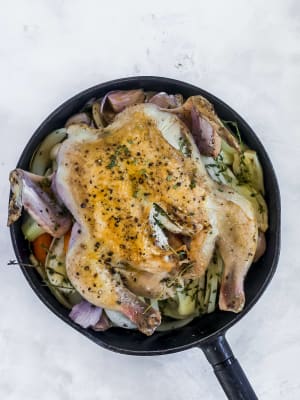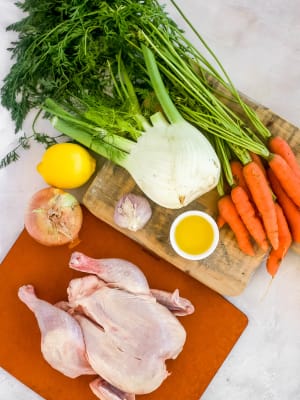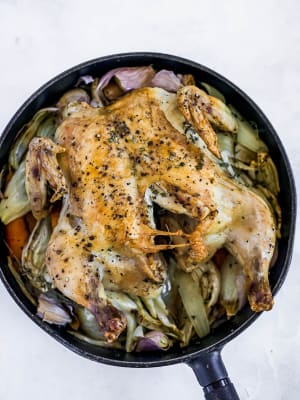 This whole chicken recipe is made in one skillet and is great for a cozy dinner in.If you've never roasted a whole chicken before, I hope this simplifies it and takes out any fears in doing so. It really is SO easy! This is also great for gluten free, diabetes, grain free and low sugar conditions or diets.
Instructions
1

Preheat the oven to 425°.

2

Pat the chicken dry with paper towels and season with salt and pepper all over.

3

Heat a large cast iron skillet over medium heat and drizzle 1 tbsp of olive oil. Once hot, place the chicken breast side down and sear for 12 to 15 minutes, flipping halfway through. Remove the chicken and set aside and remove the skillet from the heat.

4

Drizzle the remaining oil in the skillet and add the carrots, fennel, onion and garlic. Place the chicken on top. Scatter the thyme over everything. Move into the oven and cook for 45 to 55 minutes, until the chicken is cooked through.

5

Remove the chicken from the skillet and let it rest for 10 minutes before carving. Serve with lemon wedges. Enjoy!

6

Substitutions: No onion or garlic, omit. No carrots: use another vegetable such as parsnips, or potatoes. No thyme: use rosemary, or other fresh herb.
Notice: Content at this site is not intended to prescribe, treat, mitigate, prevent, diagnose or cure any medical condition or its symptoms, which advice should only be obtained from a qualified health professional.