Whole Grilled Branzino
Recipe by Jaclyn Irwin


Ingredients
Serves 02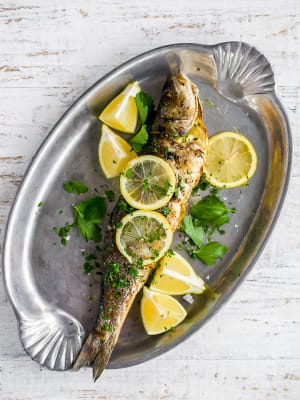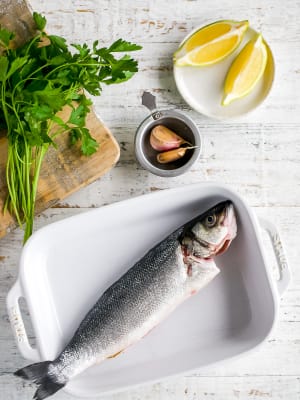 Cooking a whole fish is much easier than you think! And grilling it on the BBQ makes it even easier than cooking a fillet. Be sure to ask that your fish is gutted and scaled to make it a cleaner process. This recipe is great for gluten free, grain-free, diabetes, mental health and low sugar conditions or diets.
Instructions
1

Heat the grill over high heat.

2

Gut and scale the branzino.

3

Stuff the branzino with lemon slices and garlic and season with salt and pepper. Wrap with butcher's twine to keep it closed. Drizzle with olive oil and season with salt and pepper.

4

Place the branzino on the grill, with the spine facing towards you, or open part away from you (this makes it easier for flipping) and cook on high for eight to ten minutes, until puffed up and golden. Flip and cook for another eight to ten minutes until golden brown.

5

Remove the fish and place on a plate or platter and garnish with the remaining lemon slices and parsley. Filet the fish and enjoy!

6

Substitutions: If you don't have branzino, you can use another whole fish such as red snapper. If you don't have a grill you can use a cast iron pan instead.
Notice: Content at this site is not intended to prescribe, treat, mitigate, prevent, diagnose or cure any medical condition or its symptoms, which advice should only be obtained from a qualified health professional.