White Wine Linguine with Clams
Recipe by Jaclyn Irwin


Ingredients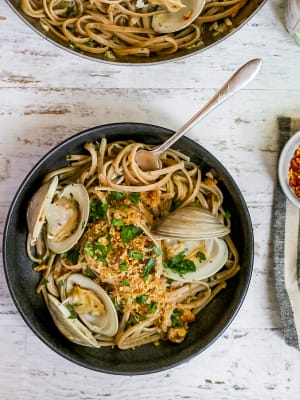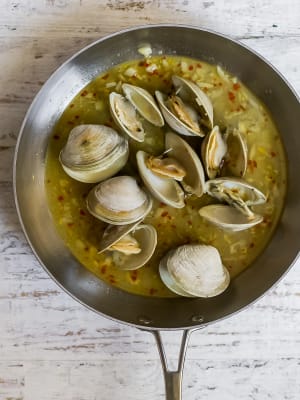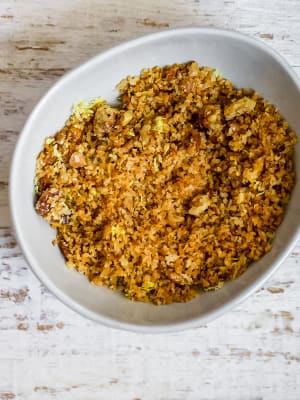 This pasta is light and perfect for spring and summer dining. Spelt offers more nutritional value than traditional white pasta, with more fibre and protein. If you need it to be gluten free, just swap that out for another type of gluten free pasta and panko. This is great for diabetes, low-sugar and mental health conditions or diets.
Instructions
1

In a large pot of boiling salted water, cook pasta slightly less than the package instructions (about two minutes less) and set aside, do not rinse. Reserve some pasta water for later, if needed.

2

Heat a large skillet over medium heat. Add half the olive oil and then add the walnuts and toast until fragrant, about 2 to 3 minutes. Then add the panko and stir to combine, toast for an additional minute. Remove from heat and set aside in a bowl, season with a pinch of salt.

3

Wipe out the skillet and return to medium heat. Add the remaining oil, and then add the garlic and stir until fragrant, about 1 to 2 minutes, add the wine, chili flakes and salt and stir. Add the clams and bring to a simmer, cover with a lid and cook for six to eight minutes, until the clams open. Discard any unopened clams.

4

Add the pasta to the skillet with the clams (if the clams don't all fit, remove them and set them aside on a plate, covered to keep warm with a clean kitchen towel). Cook, tossing everything together. If the pasta looks a little dry, add some reserved pasta water. Cook until the pasta absorbs most of the liquid, about 1 to 2 minutes. Remove from the heat and add the clams back in along with the butter, lemon juice, zest and parsley. And give everything a good toss.

5

Divide onto plates and serve with walnut panko topping and season with additional salt and pepper. Enjoy!

6

Substitutions: To make gluten free, use gluten free linguine and panko. To make dairy free: Omit the butter, use ghee or more olive oil.
Notice: Content at this site is not intended to prescribe, treat, mitigate, prevent, diagnose or cure any medical condition or its symptoms, which advice should only be obtained from a qualified health professional.