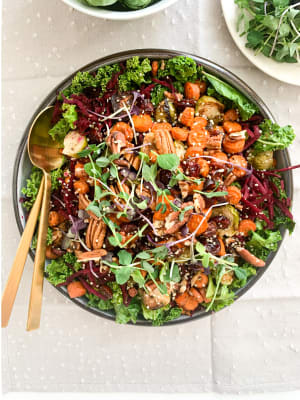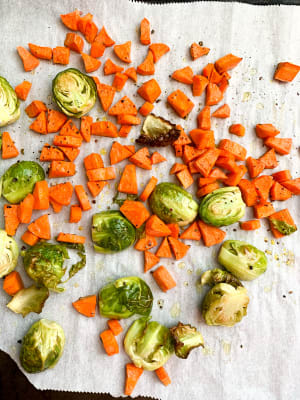 As the cooler weather approaches, the fresh salads of summer might seem less desirable and warming than your favourite roasted vegetables. Fortunately, by simply warming up your greens and adding your favourite roasted vegetables as salad toppings, you can enjoy a salad fit for Fall and Winter! This Warm Fall Harvest Salad includes liver-supportive ingredients like beets, Brussels sprouts and kale.
Instructions
1

PREHEAT: oven to 375F. Line a baking sheet with parchment paper.

2

TOSS: the carrots and brussels sprouts in olive oil, salt and pepper, and spread them out on the baking sheet in a single layer. Roast for 25 minutes, until browned.

3

SAUTÉ: the kale just before the roasted vegetables are done. In a large pan over medium heat, add the olive oil, kale and sea salt. Sauté for a few minutes to soften and warm.

4

COMPILE: the salad by tossing the shredded beet with the kale. Top with roasted vegetables, pecans, dried cranberries and microgreens. Drizzle with dressing and store extra in the refrigerator for up to one week.

5

For Dijon Lemon Dressing, combine the half cup of olive oil, juice of half a lemon, quarter cup apple cider vinegar, 1 tablespoon maple syrup, 1 teaspoon dijon mustard and 1 large clove of minced garlic.

6

Substitutions: No kale? Choose other dark leafy greens like swiss chard, beet greens or collard greens.
Notice: Content at this site is not intended to prescribe, treat, mitigate, prevent, diagnose or cure any medical condition or its symptoms, which advice should only be obtained from a qualified health professional.