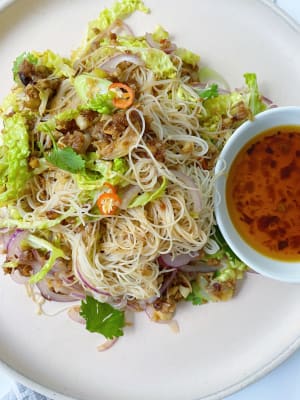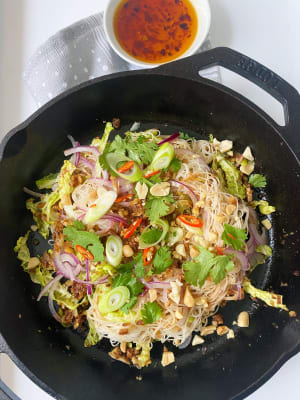 Skip the meat with this Asian-style rice noodle saute. Full of flavour and packed with protein, we love this walnut meat recipe! *Please note that some ingredients will be repeated as the main recipe and the walnut meat share ingredients in amounts that cannot be added together in a clear way.*
Instructions
1

In a bowl combine the red chili paste, seasoned rice vinegar, sesame oil, maple syrup and soy sauce; set aside.

2

Make Walnut Meat: Add 1/2 cup of soy sauce, rice vinegar, 1/2 tbsp of maple syrup, 1/3 cup of red onion and your walnuts in a thick bottomed pan, bring to a simmer.

3

Simmer for 10 minutes, remove from heat and steep for 30 minutes, covered.

4

Strain, add to a food processor and pulse until meat texture is achieved (extra can be stored in the refrigerator for up to one week)

5

In a saute pan heat the olive oil on medium high heat, add the garlic, red onion, scallion and red chili and cook for 2 minutes, stirring constantly to prevent burning. Add 1/2 cup of the walnut meat and cook for an additional minute.

6

Pour in the sauce that you set aside from step 1 and heat through.

7

Remove from the heat and toss with cooked rice noodles.

8

Serve with chopped peanuts and fresh cilantro.
Notice: Content at this site is not intended to prescribe, treat, mitigate, prevent, diagnose or cure any medical condition or its symptoms, which advice should only be obtained from a qualified health professional.