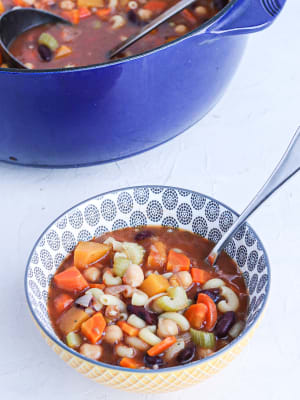 This pantry soup is very versatile depending on what you have in your pantry or fridge. Onions, carrots and celery are always a great base for a tasty soup. Take it from there and you can't go wrong! This soup is loaded with fibre from the delicious vegetables, kidney beans and chickpeas. The broth is super hearty and warming. It is an easy soup to whip up because you just have to take a look at what you have in your pantry and fridge and create from there.
Instructions
1

In a large pot or dutch oven, on medium heat, add olive oil.

2

Add the onions and saute for 5-7 or until onions become translucent. Add the garlic and saute for another 30 seconds.

3

Add the carrots, celery and squash. Saute for about 10 minutes or until vegetables start to soften.

4

Add the crushed tomatoes, chicken broth, water spices and bay leaves. Stir to combine. Lower the heat to a low simmer and cook for 15 minutes with the lid on slightly askew.

5

After 15 minutes, add the chickpeas and kidney beans and cook for another 15 minutes.

6

If using pasta, add that in and cook for 8-10 minutes or until pasta is cooked. Taste and add more flavour if needed.

7

Remove bay leaves and serve in your favourite bowls and enjoy! Store in an airtight container in the fridge for up to 3 days or in the freezer for up to 2 months.

8

Note: You can cut the squash cubes even smaller by cutting them in half to cook faster.

9

Substitutions: Use sweet potato instead of squash. Use more chickpeas if you don't like/have kidney beans. Use what vegetables you have! From tomatoes to zucchini and everything in-between.
Notice: Content at this site is not intended to prescribe, treat, mitigate, prevent, diagnose or cure any medical condition or its symptoms, which advice should only be obtained from a qualified health professional.