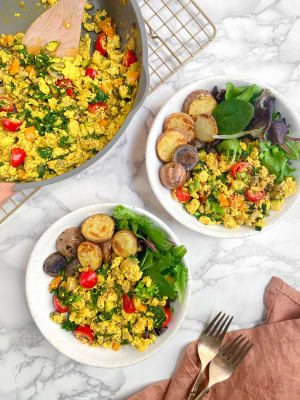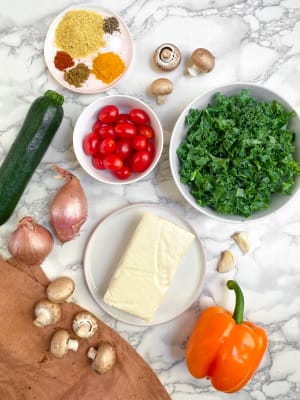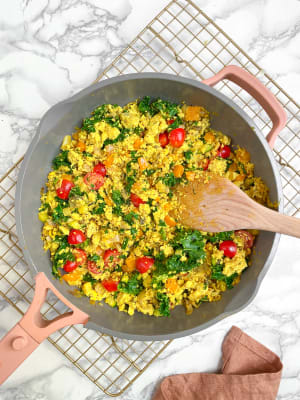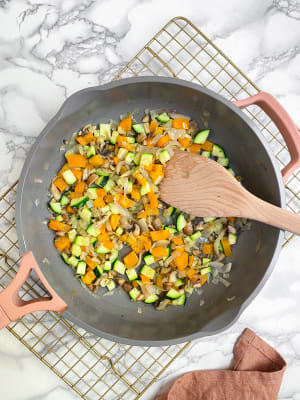 The perfect savoury breakfast, brunch or lunch! Packed with healthy fats. fibre and protein keeping you satiated, your blood sugar stable and energized, A great staple that is adaptable to mix in any favourite vegetable combos you love. Can be enjoyed in a variety of different ways, making it a great meal prep stable to have ready to go in your fridge for the week ahead. You can simply enjoy it on its own, with some greens, on a slice of sourdough or even in a wrap or taco!
Instructions
1

Rinse and drain the water from the package of tofu. Pat the brick of tofu With a paper towel to absorb any excess water.

2

Heat the coconut oil in a large skillet over medium heat. Add the chopped shal lot and a pinch of salt and pepper. Cook until soft and translucent, for about 2 minutes. Then add in the minced garlic and let sauté for about 2 minutes.

3

Add in the chopped mushrooms, zucchini and pepper and cook for an additional 3 minutes,

4

As the veggies cook, take the 1 tbsp of dijon mustard and whisk into the 1/2 cup of nut milk until fully combined. Set aside.

5

Crumble the tofu by hand into bite sized pieces into the pan and cook for 3 minutes, until the tofu is thoroughly heated. Reduce the heat to low and stir in the spices nutritional yeast, salt and pepper, cook for about 1 minute until mixed through

6

Then slowly pour the mustard-nut milk mix into the pan and let it all cook for about 2-3 minutes until tofu has soaked up some of the liquid and its reached your desired consistency.

7

Once the majority of the liquid has been soaked up, mix the sliced grape tomatoes and kale into the tofu scramble mix. Cook for an additional 2 minutes, until the kale has cooked through.

8

Remove from heat and serve on a bed of greens, in a baked sweet potato, a slice of toast, a rice cracker or roll into a taco or wrap. Sprinkle with your favourite toppings and enjoy!
Notice: Content at this site is not intended to prescribe, treat, mitigate, prevent, diagnose or cure any medical condition or its symptoms, which advice should only be obtained from a qualified health professional.