Vegan Pumpkin Pie Cheesecakes
Recipe by Tina Gravalos


Ingredients
Serves 12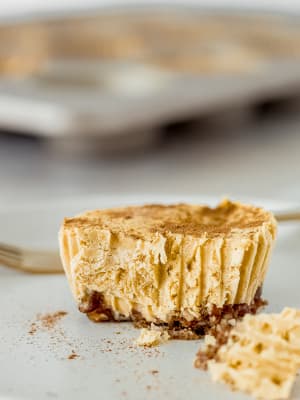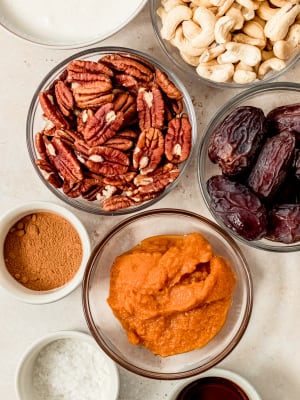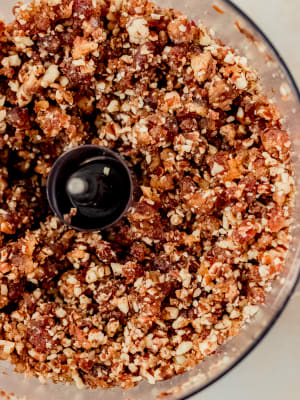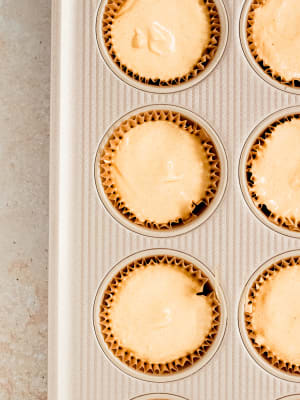 These little cuties are so simple to make and the perfect bite sized pumpkin pie dessert for the fall, or any time really! Pumpkins have quite a few health benefits! It is loaded with powerful antioxidants like Vitamin A, C and K that can support eye, skin, heart and immune health. It also contains fiber and minerals like potassium, magnesium and iron.
Instructions
1

Line a muffin tray with muffin liners.

2

In a food processor or high-speed blender, add the pecans and dates. Process until the pecans and dates are broken down into small crumbly pieces.

3

Add 1 heaping tablespoon of the pecan and date mix to each muffin liner and press down to make a layer of crust. If you have any leftover, add more to each (or a few). Put in the freezer for 10-15 minutes while you make the filling.

4

Add the coconut milk, pumpkin, maple syrup, soaked cashews pumpkin pie spice and sea salt to a blender and blend until smooth. It will resemble a pancake batter. Not too thick, not too thin.

5

Take the muffin tray out of the freezer and fill each liner with the filling.

6

With the back of a spoon, smooth out the filling of each cheesecake.

7

Lightly cover and freeze for 4-6 hours. Use a knife to pop out a cheesecake when you're ready to eat. Remove paper and thaw for 10 minutes or longer if you want it to be softer to eat with a fork. Top with cinnamon (optional) and enjoy!

8

Notes: To soak cashews, place them in a bowl and add enough filtered water to cover them. If possible, soak for at least 4 hours. If you're pressed for time, soak for 30 minutes. If you want them to be tangy like a typical cheesecake, add juice of ½ - 1 lemon.
Notice: Content at this site is not intended to prescribe, treat, mitigate, prevent, diagnose or cure any medical condition or its symptoms, which advice should only be obtained from a qualified health professional.