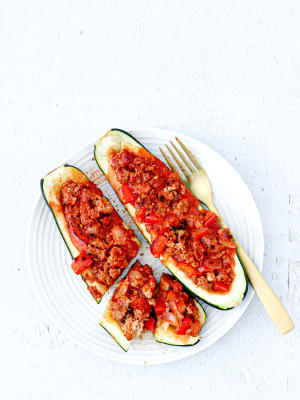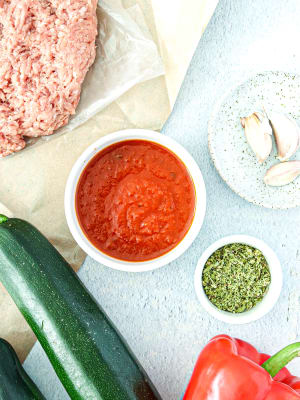 These turkey stuffed boats are a great way to make zucchini fun and exciting to eat! There's always a way to make vegetables tastier, and this way is definitely one of them. Zucchinis are a great source of phytonutrients that help to reduce inflammation and combat oxidative stress.
Instructions
1

Preheat oven to 400 degrees F. Prepare a large baking dish by adding ½ cup of tomato sauce and ¼ cup filtered water to the bottom of the dish.

2

Cut the zucchini in half lengthwise and scoop out the seeds with a spoon. You want to scoop enough out so that the turkey mix has room to fit inside. Set aside.

3

In a large frying pan, on medium-low heat, heat the olive oil and add the ground turkey, breaking it up into pieces. Season with ¼ teaspoon of sea salt and black pepper. Add in the coconut aminos and continue to stir.

4

Once browned, add the onions, bell pepper, minced garlic, remaining sea salt and saute until the onions become translucent.

5

Add the remaining tomato sauce, and cook for another 2-3 minutes, stirring to make sure everything is mixed together. Taste and add more salt if needed.

6

Spoon the turkey mix into the zucchini boats to fill them up. It's ok if some of it falls out.

7

Bake covered for 20 minutes, or until zucchini is tender, and then uncover and broil for 5-10 minutes or until lightly browned on top. Make sure to check on it when on broil to ensure the boats don't burn. You may also need to add some more water half-way through baking to ensure there is enough liquid.

8

8. Serve as is or with a side salad of your choice. Mixed greens with a simple balsamic dressing is delicious with it!

9

Store leftovers in an air-tight container in the fridge for up to 3 days.

10

Optional toppings: hemp seeds, micro-greens, arugula and parsley.

11

Substitutions: You can use ground chicken or beef instead of turkey. To make it plant based use chickpeas or lentils instead of the turkey.
Notice: Content at this site is not intended to prescribe, treat, mitigate, prevent, diagnose or cure any medical condition or its symptoms, which advice should only be obtained from a qualified health professional.