Turkey Shawarma Nourish Bowl
Recipe by Julia Gibson


Ingredients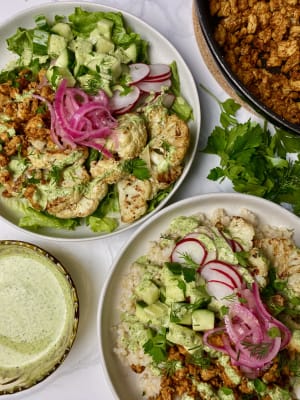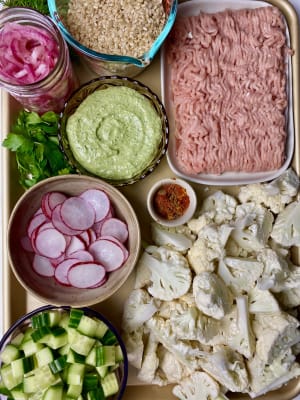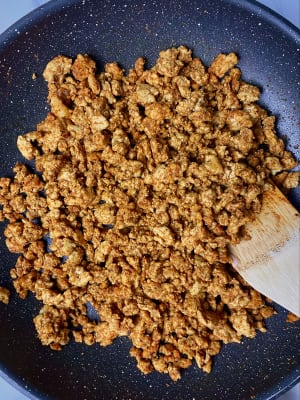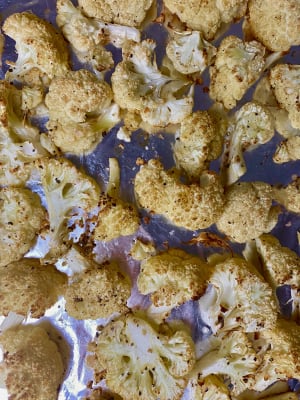 All the flavours you know and love about shawarma, but in a nourish bowl full of vitamin and mineral-rich plants, lean protein, complex carbohydrates and warming anti-inflammatory spices. The meal is grounding and comforting, but will leave you feeling, fresh, light and energized.
Instructions
1

Make the brown rice: Combine 1 cup of brown rice with 2 cups of water in a saucepan. Bring to a boil, cover then lower to a simmer and cook for 35-40 minutes until the water has absorbed. Let sit for 5 minutes before fluffing.

2

Preheat your oven to 400 degrees Fahrenheit. Toss the cauliflower in 1 tablespoon of olive oil and season with salt and pepper. Spread out on a baking sheet and roast for 30-35 minutes until browned and crispy, tossing halfway through.

3

When there's 10 minutes left of the cauliflower, heat 1 tablespoon of oil in a large non-stick skillet over medium heat. Once hot, add the garlic cloves and ground turkey. Use a wooden spoon to break up the turkey.

4

Once the turkey is almost cooked through, add the spice blend along with 1/4 cup of water. Cook, stirring constantly, until the turkey is coated in the spice blend and cooked through.

5

Divide the rice between bowls, and top with the cauliflower, turkey, cucumber, radishes, lettuce and toppings of choice.

6

Crumble tofu to use in place of the turkey for a vegan option- Omit rice and use more lettuce to make it a shawarma salad- Use quinoa, faro or any other grain in place of brown rice

7

Green Tahini Sauce: add the tahini, 1 garlic clove, lemon juice, 2 tbsp of olive oil and two cups of your fresh herbs in a food processor and pulse until smooth.
Notice: Content at this site is not intended to prescribe, treat, mitigate, prevent, diagnose or cure any medical condition or its symptoms, which advice should only be obtained from a qualified health professional.