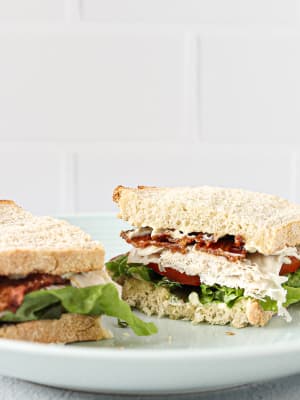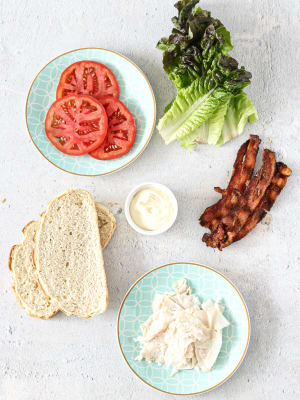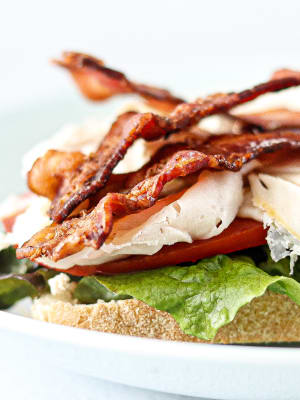 You can't go wrong with a turkey BLT. There are many ways you can add the turkey in. You can have it thinly sliced, shaved or ask for thicker slices. It's really up to you and your preference. There's always a way to enjoy your favourite foods with a healthier twist. Choosing quality ingredients is the key. In this recipe, sourdough bread is used, which is easier on digestion. The cultures in a sourdough starter feed on gluten from the flour. Some people who are sensitive to gluten can typically tolerate sourdough bread. Also, choosing quality bacon, free from additives, is a healthier choice. And, the same can be said for the mayonnaise.
Instructions
1

Preheat oven to 400 degrees F and line a baking sheet with parchment paper. Spread bacon strips out flat and leave a little bit of space between each strip. Bake for 18-20 minutes or until cooked to your liking. You can go less than 18 minutes. Keep in mind, the bacon will continue to crisp up when it is out of the oven.

2

When the bacon is cooked, transfer it, with tongs, to a plate lined with paper towel. You might need to pat it dry.

3

Spread 1 tablespoon of mayonnaise on one slice of bread then add the lettuce, tomato, turkey, bacon and then spread the remaining tablespoon of mayonnaise on the other piece of bread and place it over top to make your sandwich.

4

Cut in half and serve with a side salad, soup or pickles.
Notice: Content at this site is not intended to prescribe, treat, mitigate, prevent, diagnose or cure any medical condition or its symptoms, which advice should only be obtained from a qualified health professional.