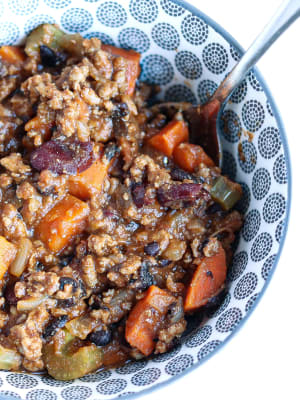 One of the best comfort foods, especially in the fall and winter months. It's such a hearty meal and will have you feeling satiated after a big bowl. Turkey is a great source of protein but also has a variety of vitamins and minerals in its nutrient profile. All B vitamins are present in turkey, with the highest amounts being vitamin B3 and vitamin B6. B vitamins help give us energy, help to produce blood cells and nerves and can support heart health (balancing blood sugar, lowering cholesterol, etc.). This recipe also includes tons of fiber from the beans and vegetables making it extra heart healthy.
Instructions
1

In a large pot or a dutch oven, heat olive oil on medium-high heat. Add the onions and saute for 4-5 minutes or until they become translucent.

2

Add the minced garlic and saute for 30 seconds to 1 minute.

3

Add carrots and celery and saute for 8-10 minutes or until they start to soften.

4

Add the ground turkey, break it up and brown for 7-8 minutes. Add the coconut aminos, chili powder, cumin, salt and pepper and stir.

5

Add the chicken broth, crushed tomatoes, kidney beans and black beans.

6

Bring to a boil and then lower the heat to a simmer. Put the lid on slightly askew.

7

Cook for 35-45 minutes or until the chili thickens to your liking. You might need to add water and more spices as you go. Fun to taste along the way (after the turkey is cooked that is).

8

When ready to serve, top with jalapenos, avocado, tortilla chips, cheese, etc.

9

Store in an airtight container in the fridge for up to 3 days or freeze for up to 1 month.

10

Substitutions: Use ground chicken or ground beef instead of ground turkey. You can omit beans entirely.
Notice: Content at this site is not intended to prescribe, treat, mitigate, prevent, diagnose or cure any medical condition or its symptoms, which advice should only be obtained from a qualified health professional.