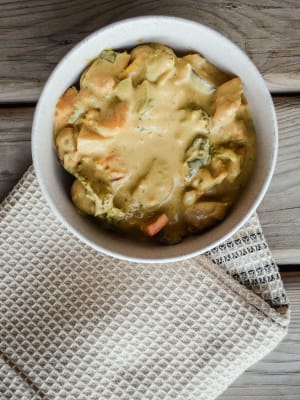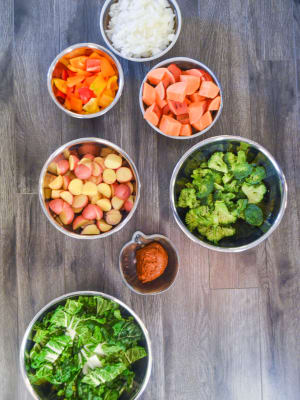 This is a great empty-out-the-fridge and pantry soup. Use whatever available or almost-spoiled veggies you have in your fridge in this delicious, flavourful soup! This Thai-inspired soup is made with creamy coconut milk, fragrant curry paste and plenty of vegetables. This recipe is the perfect warming meal to get you through the long, cold winter. This delicious, creamy coconut soup is a gut health powerhouse from all of the antioxidant and prebiotic-rich high fibre veggies. The lack of added sugars and plenty of high fibre, complex carbohydrates makes this recipe is a great option for those with diabetes. This dish is completely plant based and gluten-free, making it celiac-friendly.
Instructions
1

Heat a large soup pot over medium heat. Once hot, add coconut oil and onions and sauté for 4-5 minutes, stirring occasionally. Next, add ginger, garlic and curry paste and sauté for 2-3 more minutes, until fragrant.

2

Add sweet potato, mini potatoes, broth, salt and coconut milk. Bring to a boil over medium heat and then reduce heat to low, cover, and simmer for 10-15 minutes, until potatoes are fork-tender.

3

Add broccoli, bell peppers and baby bok choy and continue to simmer for 5 more minutes, until all vegetables are tender.

4

Taste and adjust seasonings as necessary; add more curry paste for spice, or more salt for overall flavour.

5

Serve as is or with a garnish of cilantro and whole wheat naan bread. Store leftovers in the fridge for 3-4 days or in the freezer for up to one month.

6

Substitutions: Easily substitute all vegetables in this recipe for whatever you have on hand! Zucchini, bean sprouts, carrots and cauliflower all work very well. Add baked tofu, chickpeas, chicken or shrimp to this soup to increase the protein content. Not a fan of spice? Reduce the curry paste by half. Easily omit any of the veggies listed without any consequence to the recipe!
Notice: Content at this site is not intended to prescribe, treat, mitigate, prevent, diagnose or cure any medical condition or its symptoms, which advice should only be obtained from a qualified health professional.