Thai Green Curry with Crispy Cod
Recipe by Julia Gibson


Ingredients
Serves 04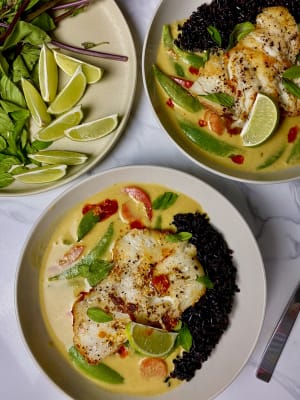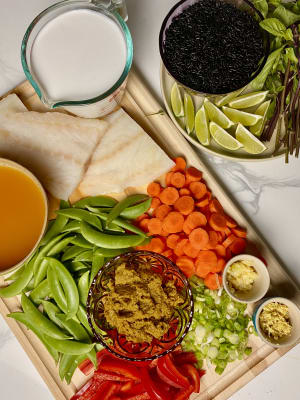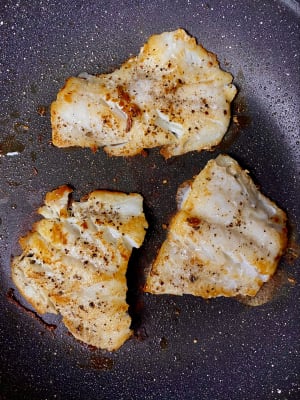 The Thai green curry of our dreams that's fresh, spicy and creamy all at once. Antioxidant-rich forbidden black rice, tender vegetables and perfectly crispy cod get doused in a luxurious spiced coconut broth. Paired with fresh Thai basil and lime for a hit of brightness that brings this dish together.
Instructions
1

Get your rice started: cook according to the package. For black rice, bring 1 cup of rice, 1 3/4 cups water and a pinch of salt to boil. Reduce heat to low, cover and cook for 30 minutes.

2

Heat oil in a large pot over medium heat. Once the oil is hot, add the garlic, ginger and green onions. Cook until fragrant and softened. Add the curry paste, cooking until very fragrant, and begins to darken and stick to the bottom. Add the carrots and bell peppers, and stir until the vegetables are hot.

3

Add in the coconut milk and vegetable stock, bring mixture to a boil, then lower to a simmer and cook until vegetables are just tender, about 10 minutes.

4

Season the fish generously with salt and pepper, and heat 2 tablespoons of oil in a large skillet over medium-high heat. Once the oil is hot, add the fish cooking until browned and crispy on both sides, about 3 minutes per side.

5

Divide the rice between shallow bowls, top with the curry and a piece of crispy cod. Serve with cilantro and lime wedges.

6

Substitutions: Use any type of rice (brown, jasmine, basmati). Substitute cauliflower rice for a grain-free, paleo option. Substitute the vegetables for whatever's in season (sweet potato, squash, kale, brussels sprouts, radishes, zucchini, peas, green beans, bok choy, etc.). Use tofu in place of the fish for a vegan option.
Notice: Content at this site is not intended to prescribe, treat, mitigate, prevent, diagnose or cure any medical condition or its symptoms, which advice should only be obtained from a qualified health professional.