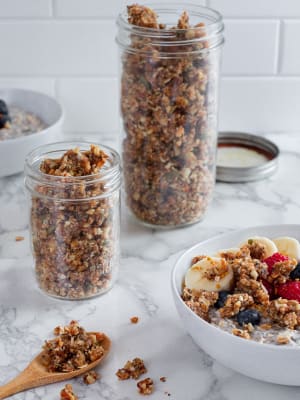 A great granola alternative during the warmer months when you do not want to turn on your oven or bake! This superfood Rawnola recipe comes together in minutes and last for weeks (that is, if you can pace yourself and not eat it all within in a few days - it's highly addictive!) Loaded with all the nutrient dense superfoods, all-natural sweeteners and packed with gut loving healthy fats. This Rawnola will keep you energized and your blood sugar stable.
Instructions
1

Remove the pits from the Medjool dates and soak your dates in warm water for 10 minutes. Rinse date water and set aside.

2

Place all ingredients into a food processor and pulse and process until the mix starts to create a crumbly batter. You may have to stop and scrape the sides down a couple of times to make sure everything mixes and combines together.

3

Once mixed, enjoy Rawnola with some fruit and nut milk, as is, on top of chia puddings, parfaits, coconut yogurt, on top of smoothie bowls or rolled into energy bites.

4

Transfer the Rawnola into tightly sealed glass containers and keep at room temperature for 1 week, in the fridge for up to 3 weeks and in the freezer for 2 months.

5

Substitutions: Any kind of nut butter will work well in this recipe.
Notice: Content at this site is not intended to prescribe, treat, mitigate, prevent, diagnose or cure any medical condition or its symptoms, which advice should only be obtained from a qualified health professional.