Sundried Tomato Pesto Pasta
Recipe by Jaclyn Irwin


Ingredients
Serves 04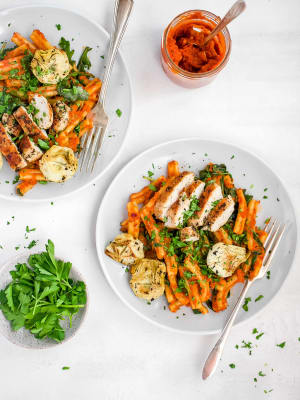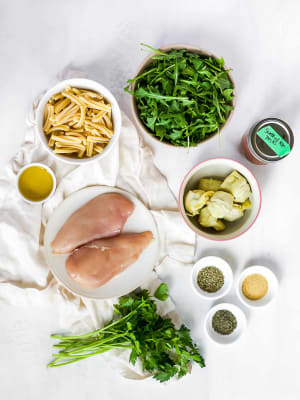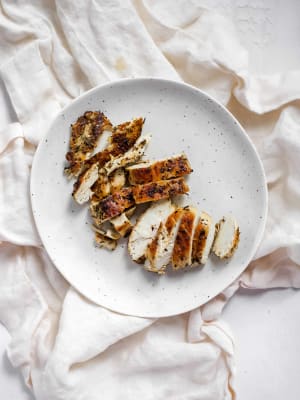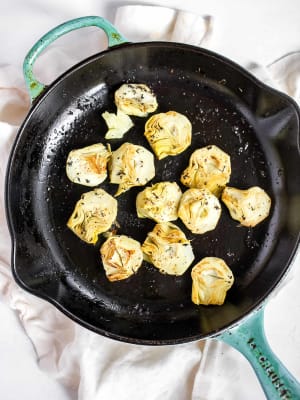 Looking to switch up your pesto? Try this sundried tomato pesto for a change. I love using it as a sandwich spread and in this pasta. This is great for diabetes, kosher, low sugar and gluten-free diets (use gluten-free pasta).
Instructions
1

In a food processor or blender, add the sundried tomatoes, almonds, garlic, lemon juice, nutritional yeast, ½ tsp of kosher salt, ½ cup olive oil, chili flakes and water blend until smooth and incorporated. Set aside.

2

Season the chicken with oregano, thyme, garlic and ½ tsp of salt and pepper to taste.

3

Heat a medium sized skillet over medium heat. Add the olive oil and then once hot, add the chicken breast. Cook for about six to eight minutes per side (depending on thickness). Remove and let rest for a few minutes. Then slice and set aside.

4

In the same skillet, over medium heat, add a splash more oil and then add the artichokes and cook for about eight to ten minutes, turning over halfway through, until browned. Remove and set aside. Add the arugula and cook until just wilted and remove from heat.

5

Meanwhile, bring a large pot of salted water to a boil. Add the pasta and cook according to package directions. Drain and set aside.

6

Add the pasta back to the pot and then add the artichoke and arugula. Add the pesto and toss to coat, adding more olive oil as needed.

7

Divide onto plates and top with chicken and parsley. Enjoy!

8

Substitutions: No almonds: use pumpkin seeds instead (or another nut such as cashews/pine nuts). No nutritional yeast: omit, or use parmesan. No chicken: use another protein source such as shrimp, scallops or baked tempeh. No canned artichoke: use another vegetable or omit. No arugula: use another green such as spinach.
Notice: Content at this site is not intended to prescribe, treat, mitigate, prevent, diagnose or cure any medical condition or its symptoms, which advice should only be obtained from a qualified health professional.