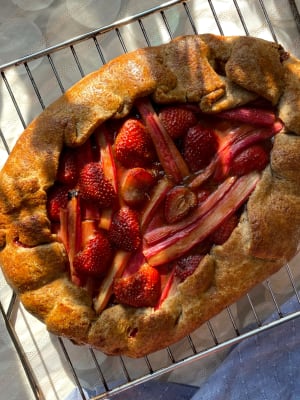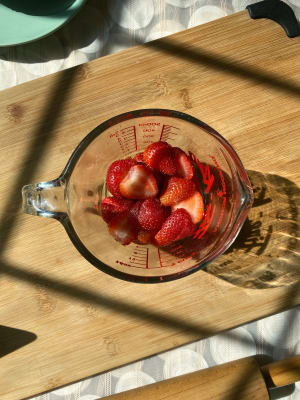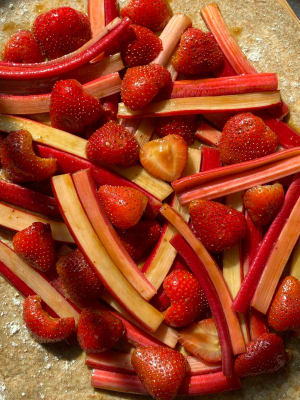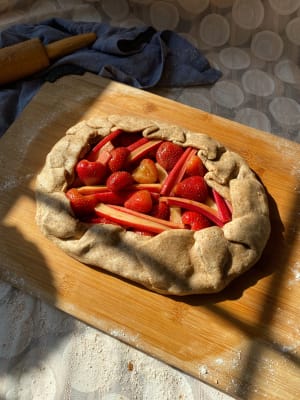 Galettes are the perfect pastry for beginner bakers. Similar to a pie or tart, but guaranteed to cause less stress. Spelt and almond flour make up the base of this galette, giving it a lower gluten content than regular recipes. Strawberry pairs perfectly with rhubarb to create a filling with a tart kick and sweet finish. Cook Time: 60 Minutes + 1 Day
Instructions
1

Mix the spelt flour, almond flour, and salt in a medium bowl.

2

Cut the coconut oil into the flour mix using a pastry cutter or a fork until a pea-like consistency is met with dough. Drizzle in the ice water a few tablespoons at a time. Be careful not to overwork the dough or the crust will become tough and crack.

3

Roll the dough into a ball. Wrap and let it sit in the fridge overnight.

4

Preheat the oven to 400°F. Roll out the dough on a well-floured surface to about 14". Flour as needed to prevent sticking. Transfer to a lined baking sheet.

5

Toss together rhubarb, strawberries, cornstarch, 5 tbsp sugar, and vanilla together in a medium mixing bowl. Mix well.

6

Add filling to the center of the dough, and evenly spread it out, leaving a 3" border at the edges. Fold up the edges of the dough over the filling.

7

Brush the dough with the whisked egg half.

8

Sprinkle the dough with the remainder of the coconut sugar.

9

Bake until the galette is browned, about 40 minutes.
Notice: Content at this site is not intended to prescribe, treat, mitigate, prevent, diagnose or cure any medical condition or its symptoms, which advice should only be obtained from a qualified health professional.