Strawberry Coconut Ice Cream Floats
Recipe by Tina Gravalos


Ingredients
Serves 02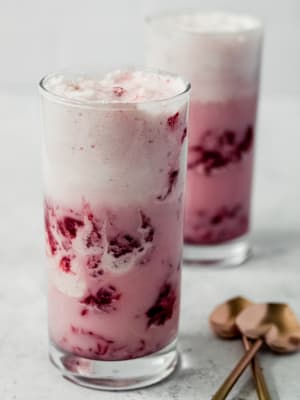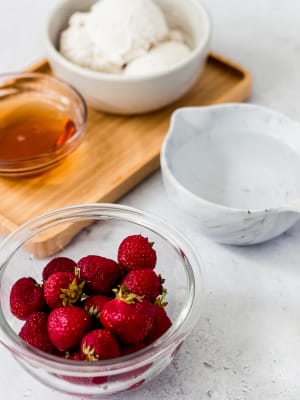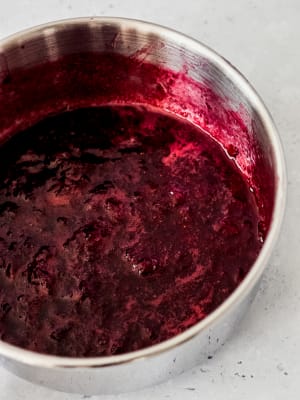 It's the most wonderful time of the year... strawberry season! This recipe is super fun to make and to enjoy. All you need is four simple ingredients, and it's ready in no time at all. Packed with vitamin C and loaded with antioxidants, strawberries are a powerhouse fruit. Because of their antioxidants, they have been shown to protect against cancer and heart disease.
Instructions
1

Combine strawberries and maple syrup in a small saucepan and heat over medium-low. Let simmer for 5 minutes, stirring often.

2

Once strawberries begin to soften, use the back of a fork or a potato masher to smash them. Simmer for another 5-7 minutes until it starts to resemble a syrup-like consistency. Remove from heat and let cool for 15 minutes.

3

Grab your glasses and add 2 scoops of coconut ice cream to each glass. Divide the strawberry syrup evenly into each glass. Lastly, divide the sparkling water (1 ¼ cup each).

4

Lightly stir to combine and serve immediately. Eat with a spoon, straw, or both!

5

Note:The strawberry syrup will not be smooth. It will have pieces of strawberries like strawberry jam has. If you prefer it to be more smooth, you can omit the cooking process and add the strawberries and maple syrup to a blender and blend until smooth.
Notice: Content at this site is not intended to prescribe, treat, mitigate, prevent, diagnose or cure any medical condition or its symptoms, which advice should only be obtained from a qualified health professional.