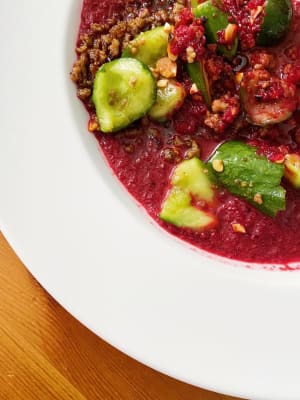 Not only are soups easy to prepare but they are the perfect dish for the colder wintertime months. Ginger is the perfect warming herb that can aid digestion, reduce nausea, help prevent cold/flu symptoms, and contains powerful antioxidant and anti-inflammatory properties. Beets are a main part of this recipe, and they're packed with vitamins, minerals and tons of plant nutrients. Pair that with onion, cucumber, ground beef, and chili paste for even more kick, and you have yourself the perfect warming winter soup!
Instructions
1

In a large soup pot heat the oil on medium heat, add the ground beef, onion and 1 tsp sea salt, and cook for 3 minutes. Add the beets and cook for an additional 3 minutes. Add the beef stock and simmer until the beets are tender, about 6 minutes.

2

Meanwhile, in a bowl combine the cucumber, ginger, chili paste, sesame oil, maple syrup and remaining salt.

3

Once the soup is complete, use a potato masher to mash the soup once or twice.

4

To serve, garnish the soup with the spicy cucumber.

5

Can also garnish with toasted peanuts (optional)
Notice: Content at this site is not intended to prescribe, treat, mitigate, prevent, diagnose or cure any medical condition or its symptoms, which advice should only be obtained from a qualified health professional.