Spiced Mango Curry Chickpea Wraps
Recipe by Jennifer Barr


Ingredients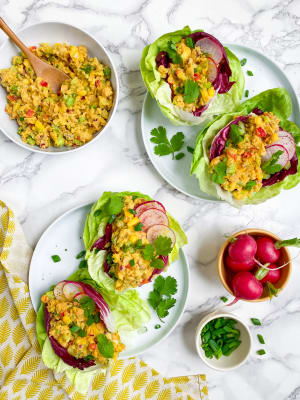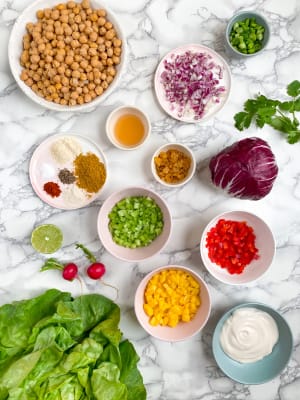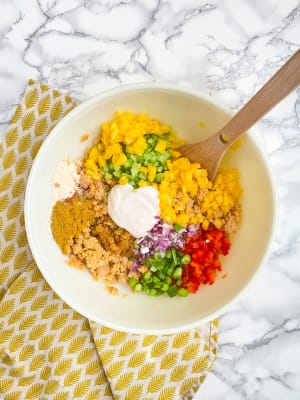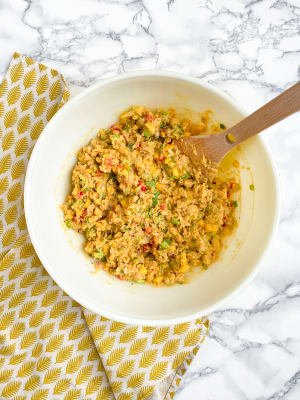 The perfect plant-based lunch or picnic recipe that is sure to satisfy. A time saving easy recipe, perfect for meal prep that you can also bring with you anywhere on the go. Packed with healthy fats, loads of fibre and some added sweetness that balances the curry and won't spike your blood sugar.
Instructions
1

In a large bowl roughly mash the about 3/4 of the rinsed chickpeas with the back of a fork or potato masher

2

Dice cilantro, red pepper, mango and raisins.

3

Once mashed, add in all of the prepared red onion, celery, cilantro, red pepper, mango, vegan mayo, golden raisins, apple cider vinegar, spices, herbs and salt and pepper. Mix until fully combined.

4

Prepare your lettuce leaf wraps (or wrap of choice) and add the Mango-Curry Chickpea mix on top. Then add sliced avocado, radish, cilantro leaves (or any desired toppings) and any additional spice.

5

Substitutions: Sub hummus or a seed based dip for the vegan mayo if you are avoiding oils. Swap the lettuce leaf wraps for collard greens, gluten free wraps, paleo wraps or simply enjoy the chickpea salad on top of a salad, eggs or on its own. Add in a sustainable can of tuna to add some extra protein.
Notice: Content at this site is not intended to prescribe, treat, mitigate, prevent, diagnose or cure any medical condition or its symptoms, which advice should only be obtained from a qualified health professional.