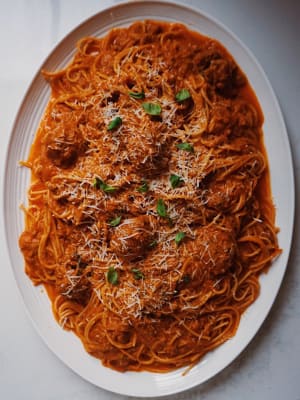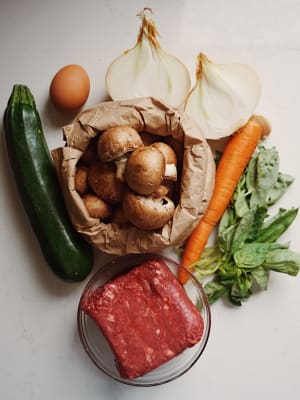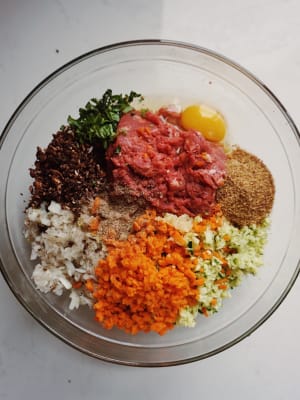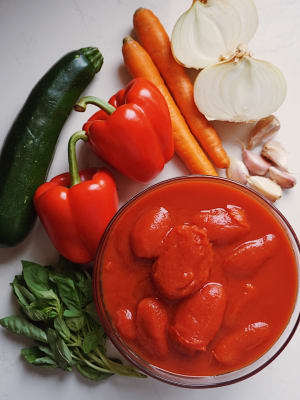 This delicious pasta recipe allows you to use your favourite type of gluten-free spaghetti, allowing for great texture, more fibre, protein and nutrients, and doesn't leave you with that heavy gut feeling. Both the sauce and meatballs are packed with vegetables, providing much more nutritional value than your average spaghetti and meatball dish.
Instructions
1

For sauce, heat olive oil in a large pot over low-medium. Once oil is hot, add 1/2 of the onion and 8 cloves of garlic, cooking until translucent and beginning to get golden, stirring occasionally and making sure they don't burn. Add the zucchini, bell pepper and carrots, cooking until soft, about 10-20 minutes. Add basil and mix to wilt. Add tomatoes and their juices, crushing them with your hands as you go. Mix in the oregano and season heavily with salt and pepper. Bring to a boil, then reduce to simmer, covered, for another 20 minutes. Add red pepper flakes, then use an immersion blender to puree sauce, or transfer to an upright blender to puree before returning sauce to the pot.

2

For meatballs, briefly mix ground beef, small zucchini, small carrot, mushrooms, 1/2 onion, 2 garlic cloves, and ground flaxseed with your hands until the ingredients are well distributed. Form into meatballs the size of ping pong balls. With the sauce on low heat, drop the formed meatballs into the pot, cooking them in the sauce for 1-1 1/2 hours.

3

Boil pasta in a large pot of salted water according to package instructions. Drain noodles then add them to the pot of sauce and meatballs, combining the noodles with the sauce thoroughly. Serve with fresh parmesan, vegan parmesan, salt & pepper, chili flakes and/or fresh basil.

4

Substitutions/options: If you prefer a chunky sauce, feel free to skip the blending step. A mixture of ground pork and beef can be used for the meatballs, or you can sub the red meat for ground chicken or turkey!
Notice: Content at this site is not intended to prescribe, treat, mitigate, prevent, diagnose or cure any medical condition or its symptoms, which advice should only be obtained from a qualified health professional.