Sourdough Bacon Grilled Cheese
Recipe by Tina Gravalos


Ingredients
Serves 02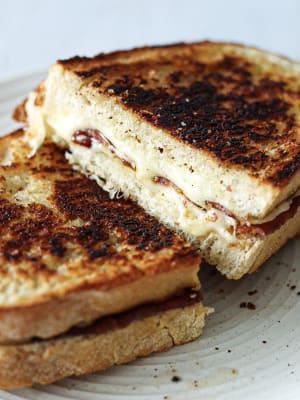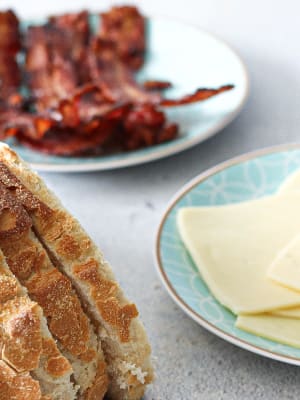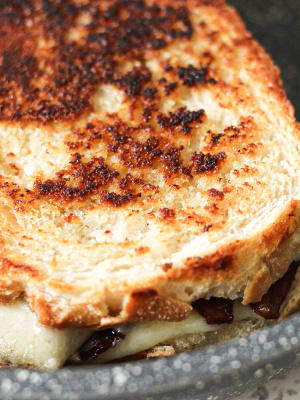 Relive your youth with a classic grilled cheese sandwich, but make it a little fancier with crispy bacon! There's always a way to enjoy your favourite foods with a healthier twist. Choosing quality ingredients is the key. In this recipe, sourdough bread is used, which is easier on digestion. The cultures in a sourdough starter feed on gluten from the flour. Some people who are sensitive to gluten can typically tolerate sourdough bread. Also, choosing quality bacon, free from additives, is a healthier choice. And, the same can be said for the cheese.
Instructions
1

Preheat oven to 400 degrees F and line a large baking sheet with parchment paper. Spread bacon strips out flat and leave a little bit of space between each strip. Bake for 18-20 minutes or until cooked to your liking. You can go less than 18 minutes. Keep in mind, the bacon will continue to crisp up when it is out of the oven.

2

While the bacon is in the oven, prepare sourdough bread by spreading butter on one side of each piece of bread. You're going to put the butter side down on the pan when you're ready to make the grilled cheese.

3

When the bacon is cooked, use tongs to transfer to a plate lined with paper towel. You might need to pat it dry.

4

Heat a non-stick pan to low-medium heat. Place one piece of bread butter side down onto the pan. Add two slices of cheese, then two to three pieces of bacon. Add two more slices of cheese and then add another piece of bread butter side up on top.

5

Cook for about 2-3 minutes on each side or until the cheese melts. Cooking time will depend on the thickness of your bread and your stovetop.

6

Repeat with second grilled cheese sandwich.

7

Serve with side salad, tomato soup or homemade fries.

8

Note: You can cook the whole package of bacon and store the rest in the fridge to use on top of salad or other dishes.

9

Substitutions: You can use gluten-free bread. You can use turkey bacon. You can omit bacon.
Notice: Content at this site is not intended to prescribe, treat, mitigate, prevent, diagnose or cure any medical condition or its symptoms, which advice should only be obtained from a qualified health professional.