Socca Pizza with Pesto & Prosciutto
Recipe by Jaclyn Irwin


Ingredients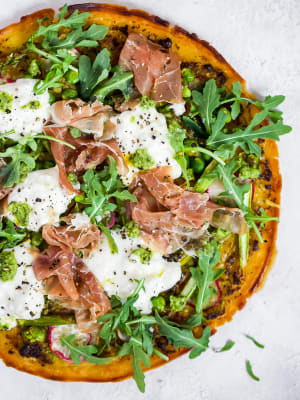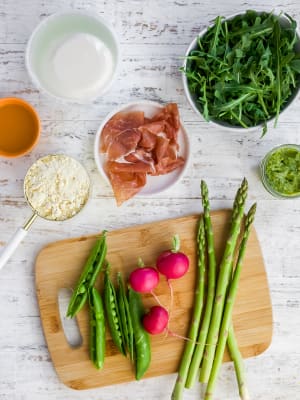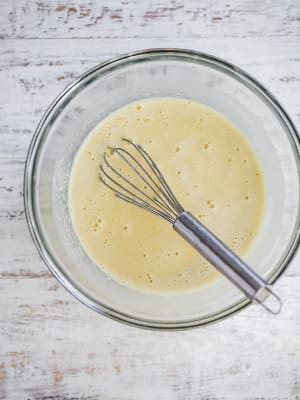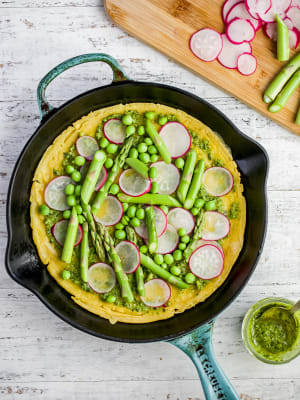 Switch up your typical flatbread with this higher fibre version. Socca is a simple and savoury unleavened flatbread that's cooked in the oven until crispy around the edges. I love making it because it's quick and easy and you can top it with pretty much anything. Here it's topped with pesto, fresh peas, asparagus, arugula, prosciutto and burrata. This is great for gluten free and low sugar conditions or diets.
Instructions
1

In a large bowl, combine the chickpea flour (sifted), water, olive oil, garlic powder and kosher salt. Whisk well. Set aside to sit for about 30 minutes.

2

Turn the oven to broil and place a large cast iron skillet in the oven for ten minutes.

3

Remove the skillet (using gloves, it's hot) and pour in the socca batter. Tilt the skillet to even it out. Turn the oven to 425ºF.

4

Place the skillet in the oven for six to eight minutes, until just set.

5

Remove the skillet and spread the pesto on top. Then add the asparagus, peas and radish. Place back in the oven for 12 to 13 minutes.

6

Remove the skillet from the oven and turn the oven to broil (optional to crisp it up more) and place the skillet back in the oven for another 1 to 2 minutes.

7

Take the skillet out of the oven and let cool for a minute. Transfer to a cutting board using a spatula and top with burrata, arugula and prosciutto. Dollop extra pesto on top or a drizzle of olive oil. Garnish with salt and freshly ground pepper. Slice and serve.

8

Substitutions: No pork, omit the prosciutto. No dairy, use vegan pesto and omit burrata. No fresh peas, use frozen instead.
Notice: Content at this site is not intended to prescribe, treat, mitigate, prevent, diagnose or cure any medical condition or its symptoms, which advice should only be obtained from a qualified health professional.