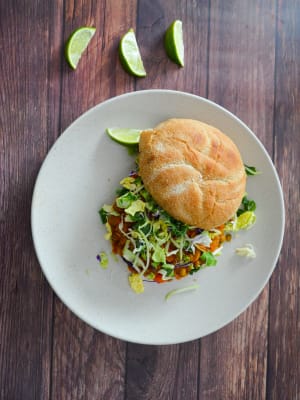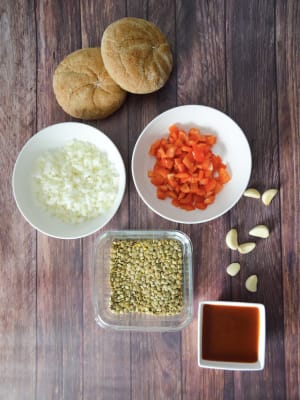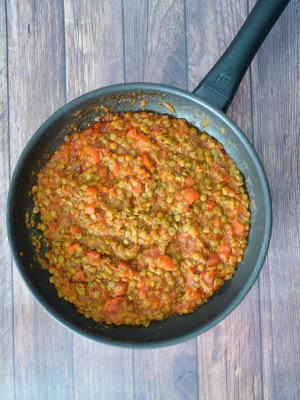 This plant based version of classic sloppy joes is a healthier alternative, but just as tasty as the original! Most of the ingredients in this recipe are pantry-staples, meaning that you probably have all or nearly all of the ingredients required on hand. The sloppy joes are savoury, smoky, flavour-packed and a bit messy of course! This recipe keeps well all week and is easy to reheat for quick lunches and weeknight dinners. Although these sloppy joes are entirely vegan, they are so hearty that they will satisfy even the biggest meat eaters! The base of the sloppy joes is lentils – which are packed with fibre and prebiotics to support our gut health. For those who deal with heart disease, diabetes and other chronic diseases, transitioning to a few meatless days or meals is a great option and can really help to cut back on sodium and saturated fat intake – and increase fibre of course!
Instructions
1

Prepare lentils. Rinse lentils thoroughly with water and then add lentils and broth to a medium saucepan. Bring to a boil over medium-high heat, then reduce heat to a simmer and cook for 18-22 minutes, until tender.

2

While lentils are cooking, heat a large frying pan over medium-high heat. Add oil and onion and cook for 3 minutes, then add garlic and bell pepper and sauté for another 4-5 minutes, stirring frequently, until tender. Season with a pinch of salt and pepper.

3

Add tomato sauce, BBQ sauce and seasonings (chili powder, cumin and paprika). Stir to combine. Reduce heat to medium-low.

4

Once the lentils are cooked add them to the pan and stir to combine all ingredients. Continue cooking on medium-low until mixture is desired consistency and heated throughout, about 3 to 5 minutes.

5

Serve the mixture on a toasted bun and top with coleslaw and pickles if desired!

6

Substitutions: Substitute low sodium canned lentils to skip the lentil-cooking process. Substitute gluten-free hamburger buns to make this recipe gluten-free.
Notice: Content at this site is not intended to prescribe, treat, mitigate, prevent, diagnose or cure any medical condition or its symptoms, which advice should only be obtained from a qualified health professional.