Smoky Chicken with Roasted Veggies
Recipe by Jaclyn Irwin


Ingredients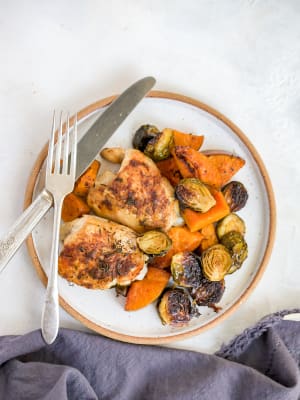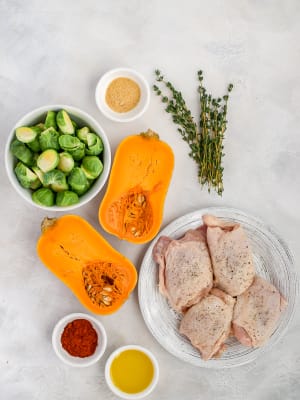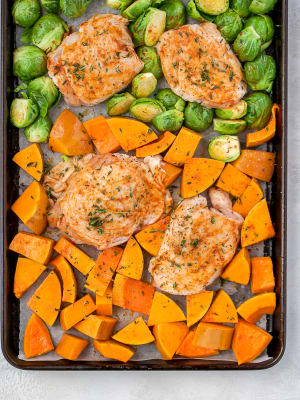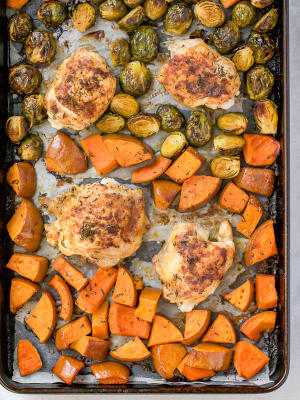 An easy, sheet pan dinner with smoky chicken, squash and brussels sprouts. Perfect for a busy weeknight as it's ready in 45 minutes!
Instructions
1

Preheat the oven to 425ºF and line a baking sheet with parchment paper.

2

Season the chicken with salt and pepper, then toss with half of the olive oil, half the smoked paprika, half the garlic powder and half the thyme. Place on the baking sheet.

3

Toss the squash and the brussels sprouts with the remaining olive oil, salt and pepper, smoked paprika, garlic powder and thyme. Place around the chicken on the pan.

4

Bake in the oven for 45 minutes, until the chicken is cooked through and juices run clear. Enjoy!

5

Note: If you want the vegetables to be crunchier, remove them from the oven after 30 minutes, until just fork tender.

6

Substitutions: No honeynut squash, use another type of squash, such as delicata (leave the skin on) or butternut squash (the skin must be peeled). Boneless chicken: use boneless skinless chicken thighs, but reduce the cook time. No smoked paprika, use regular paprika. No fresh thyme, use dried but reduce the amount.
Notice: Content at this site is not intended to prescribe, treat, mitigate, prevent, diagnose or cure any medical condition or its symptoms, which advice should only be obtained from a qualified health professional.