Sheet Pan Lamb Meatballs
Recipe by Fran Allen


Ingredients
Serves 04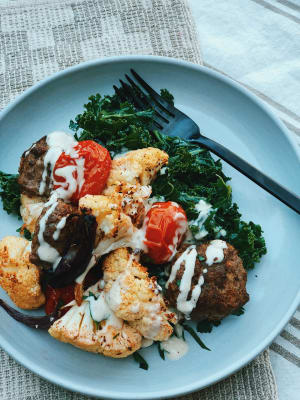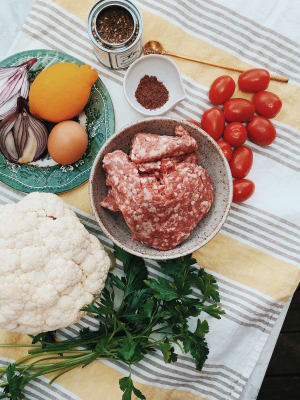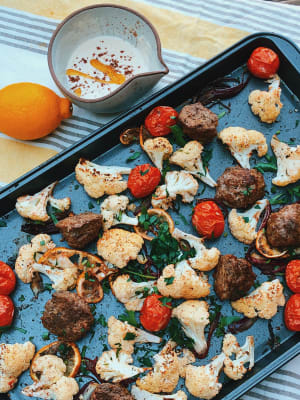 Hearty, flavourful and satisfying and loaded with veggies this sheet pan dinner makes the perfect low carb meal for a busy weeknight. Enjoy on it's own or dress up with a quick salad on the side.
Instructions
1

Heat broiler and place top oven rack below heat source.

2

In a large bowl, combine lamb, spices and egg until well combined. Shape mixture into small meatballs and place them on a non-stick baking sheet about 1 inch apart. Broil meatballs for about 10 minutes, flipping once until they've browned on both sides.

3

Once browned, add cauliflower, tomatoes sliced lemon and onions to the same sheet pan with the lamb, along with 1 to 2 tablespoons of olive oil (or as needed to generously coat) and kosher salt to taste. Toss well and spread cauliflower in a single, even layer. Return pan to broiler, and broil cauliflower for 3 to 6 minutes, stirring once or twice, or until tender and caramelized.

4

Meanwhile, in a small bowl, stir together tahini, lemon juice, water salt and sumac until smooth. Adjust seasoning to taste.

5

To serve, place the cauliflower and meatballs on a large serving dish, and scatter the parsley leaves. Serve with tahini sauce drizzled over and enjoy!

6

Feel free to substitute 1 lb of lean ground beef for ground lamb.
Notice: Content at this site is not intended to prescribe, treat, mitigate, prevent, diagnose or cure any medical condition or its symptoms, which advice should only be obtained from a qualified health professional.