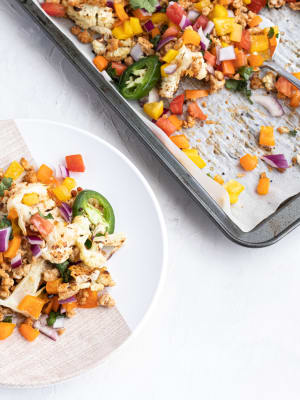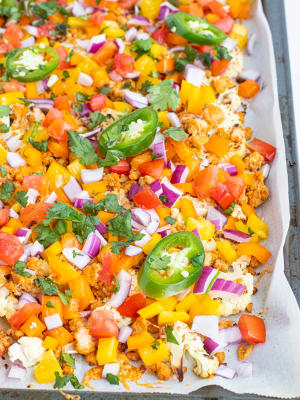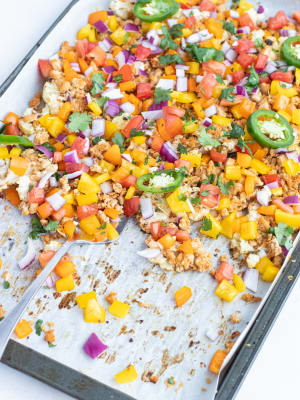 This recipe is the definition of eating the rainbow! So many vibrant colours. The star of the show is definitely the cauliflower replacing the usual tortilla chip. Not only is cauliflower high in vitamin C and loaded with antioxidants, it's a great gluten-free option and tastes mighty delicious with all the toppings!
Instructions
1

Get all of your toppings chopped so they are ready to go. Set aside.

2

Preheat oven to 425 F and line a baking sheet with parchment paper.

3

In a large bowl add the cauliflower chips, avocado oil and sea salt. Toss to coat.

4

Spread the cauliflower chips out on the baking sheet.

5

Bake for 20 minutes and then flip them over. The ground turkey takes less time to cook than the cauliflower chips. Read next steps for topping the cauliflower chips before putting them back in the oven.

6

While the cauliflower chips are baking, cook the ground turkey.

7

In a frying pan, add avocado oil and heat up over medium heat. Add ground turkey and begin to break it up. A wooden spoon that has a serrated edge works well for this.

8

Let the turkey brown for 3-5 minutes and then add the coconut aminos and stir. Add all spices and continue to mix in. Lower the heat and cook for about 10 minutes, or until your turkey is fully cooked. Make sure to continue to break up the turkey into smaller pieces, almost like a crumble.

9

Generously load up the cauliflower chips with the cooked ground turkey and shredded goat cheddar.

10

Put back in the oven for 10 minutes or until the cheddar has melted.

11

Remove from oven and add your toppings! Use a large spoon or spatula to serve. Serve with guacamole, salsa, hot sauce.

12

Substitutions: No goat cheddar, use cow's milk cheddar. Dairy-free, use vegan cheese or omit entirely. No ground turkey, use ground chicken or ground beef. Vegan, use vegan meat.
Notice: Content at this site is not intended to prescribe, treat, mitigate, prevent, diagnose or cure any medical condition or its symptoms, which advice should only be obtained from a qualified health professional.