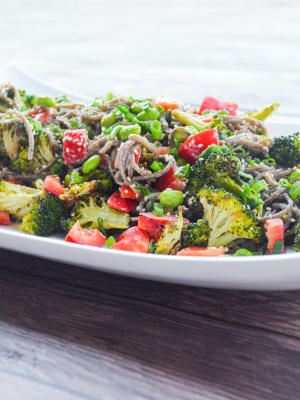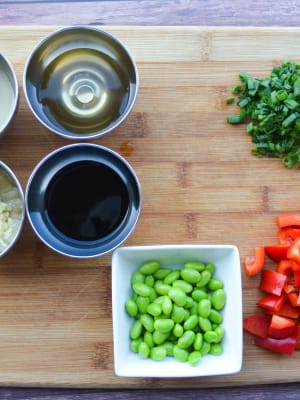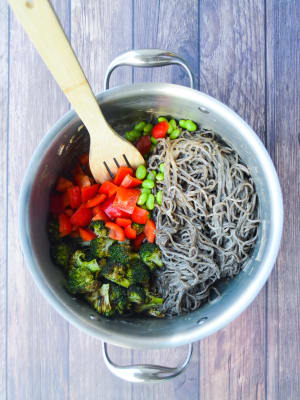 This soba noodle salad can be served hot or cold, but it's not your traditional pasta salad! The fiber-rich soba noodles and edamame provide plenty of fiber and protein to keep you satisfied for hours afterwards. The creamy dressing packs sweet and tangy flavour from the combination of tahini, garlic and rice vinegar. Soba noodles are delicious – and nutritious! – alternative to rice or wheat noodles. Look for soba noodles that are made from 100% buckwheat flour which is naturally gluten free. This soba noodle salad is loaded with high fiber plant-based foods such as roasted broccoli, edamame and bell peppers to feed your healthy gut bacteria and maintain glycemic control for diabetics. This noodle-based salad is gluten-free making it a perfect choice for those with celiac disease. Lastly, the combination of a low sodium, plant-based meal that is still high in protein (from the soba noodles and edamame!) makes it a great choice for people with heart disease and high blood pressure.
Instructions
1

Preheat oven to 425-degrees F. Chop the broccoli into 1-inch florets and spread evenly on a parchment-lined baking sheet. Drizzle with avocado oil, salt and pepper, stirring to cover. Roast in the oven for 13-15 minutes until crispy.

2

Bring a large pot of water to a boil and add soba noodles, cooking per directions, about 6 minutes (noodles should be soft but firm). Strain and rinse the soba noodles with warm water. Return noodles to the pot, tossing with 1-2 tbsp of sesame oil to prevent noodles from sticking.

3

While the noodles are cooking, add all dressing ingredients to a medium bowl and whisk thoroughly to combine.

4

Add the dressing to the pot with the soba noodles, tossing to coat evenly. To the noodles, add the roasted broccoli, bell peppers and edamame, stirring to combine.

5

Serve soba noodles salad with green onions sprinkled over top. Top with sesame seeds, lime wedges and hot sauce if desired. Enjoy!
Notice: Content at this site is not intended to prescribe, treat, mitigate, prevent, diagnose or cure any medical condition or its symptoms, which advice should only be obtained from a qualified health professional.