Sesame Crusted Salmon Burgers
Recipe by Jaclyn Irwin


Ingredients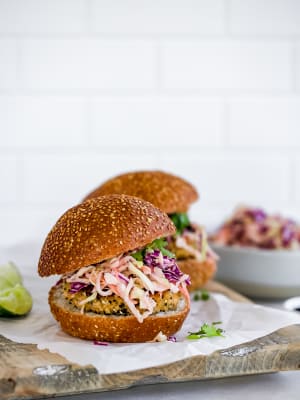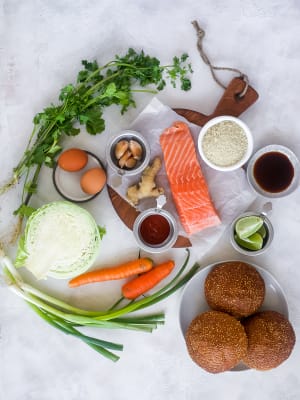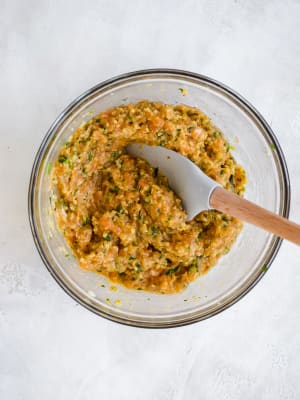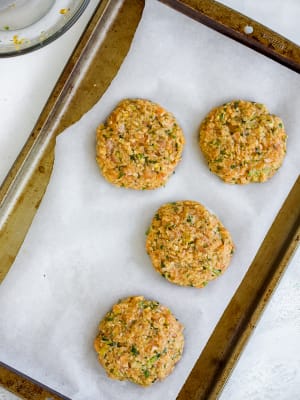 Change up your burger routine with these crispy sesame crusted salmon burgers. Packed with healthy fats and tons of flavour from herbs and seasonings. Top it off with an easy cabbage slaw and enjoy it between your favourite buns. This recipe is great for gluten free, mental health and low sugar conditions or diets.
Instructions
1

In a food processor, pulse together the garlic, ginger, cilantro, tamari, green onion, sambal oelek and lime zest until fairly smooth.

2

Remove the skin from the salmon and chop it into small pieces. Add the chopped salmon into the food processor and pulse until combined and incorporated, about 8-10 pulses. Remove and pour into a medium sized bowl.

3

Add the eggs and salt to the salmon mixture along with ¾ cup panko and stir to combine.

4

Form into patties and set aside. If the patties are too wet, you can refrigerate them for 15 minutes until easier to work with.

5

On a plate, combine the remaining panko and sesame seeds.

6

When ready to cook, heat a cast iron skillet over medium heat and add a splash of avocado oil. Press the salmon burgers into the panko/sesame mixture and coat on both sides.

7

Once the skillet is hot, add the salmon burgers and cook for 3 to 4 minutes per side, until crispy. Remove and set aside.

8

Meanwhile, in a large bowl, combine the cabbage and carrots. Pour in the mayonnaise, sriracha, lime juice, rice vinegar, salt and honey and toss to combine.

9

Place a salmon burger on the bottom bun, top with slaw and then close the bun. Enjoy!

10

Substitutions:Gluten-Free: Use gluten free panko or other breadcrumbs, panko is the preference for taste. Use a gluten-free burger bun. Keto, omit the honey in the slaw. No spice, omit the sriracha and sambal oelek. Cabbage: use only one type of cabbage, or use a pre-sliced coleslaw mix to save time.
Notice: Content at this site is not intended to prescribe, treat, mitigate, prevent, diagnose or cure any medical condition or its symptoms, which advice should only be obtained from a qualified health professional.