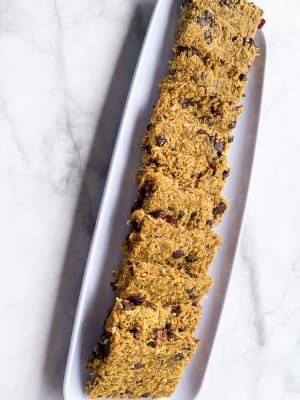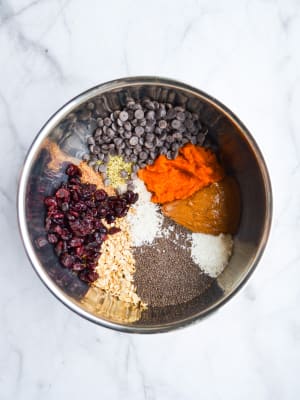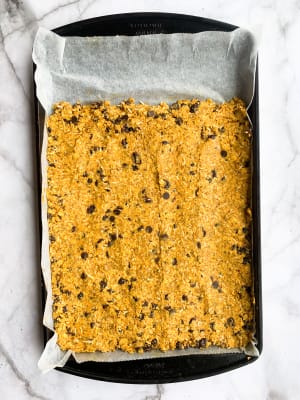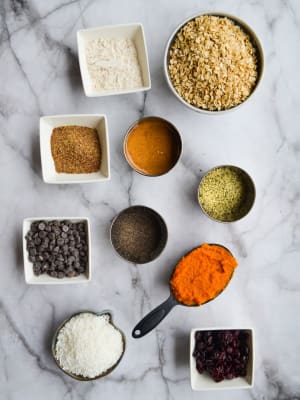 Let's face it. Store bought granola bars generally contain less-than-ideal ingredients, such as high fructose corn syrup. Even the healthier versions of commercial granola bars are typically too high in sugar and low in fiber to make them a great choice. Introducing homemade granola bars! These delicious granola bars are made with amazing ingredients including antioxidant-rich pureed pumpkin, fiber and omega-3 superstars' chia, flax and hemp, and healthy complex carbs from the oats. The perfect gut healthy breakfast or snack on-the-go. These completely plant based granola bars provide plenty of protein and heart healthy fats from the peanut butter, hemp hearts and almonds to keep you satisfied for hours. With plenty of fibre and very little added sugar, these pumpkin granola bars are an excellent option for diabetics.
Instructions
1

Preheat oven to 350°F. Line a 9 x 13-inch baking pan with parchment paper, letting the paper overhang on both sides.

2

Add all dry ingredients to a large bowl, mixing thoroughly. In a medium bowl, whisk together pumpkin, maple syrup, melted coconut oil and vanilla. Pour wet ingredients over dry ingredients. Mix using a wooden spoon (or your hands!) until dry ingredients are coated with pumpkin mixture.

3

Pour the mixed granola mixture into the prepared pan and spread it evenly to the edges. Using your hand, press down firmly on the granola so that it is tightly packed.

4

Bake on middle oven rack for about 25 minutes, until the top turns a light golden brown and feels dry to touch.

5

5. Remove pan from oven and let cool. Transfer cooled slab of granola to a cutting board by holding onto the excess parchment paper. Cut the granola into 16-20 bars based on your preference for size (each bar should be ~1½ x 4 inches). Store in an airtight container at room temperature or in the fridge for 4-5 days. Note: these granola bars freeze very well!
Notice: Content at this site is not intended to prescribe, treat, mitigate, prevent, diagnose or cure any medical condition or its symptoms, which advice should only be obtained from a qualified health professional.