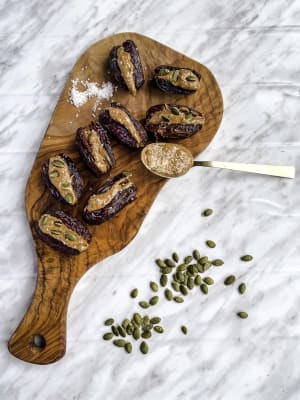 These stuffed dates with homemade nut and seed butter are the perfect snack for when those mid-afternoon sweet cravings hit! Dates are high in fiber and a source of prebiotics. Including naturally occurring prebiotics in food is the best way to support gut health and feed your gut microbiome. The combination of high fiber (from the dates and seeds) and healthy fats (from the peanut butter, hemp hearts and seeds) helps to slow down digestion and prevent blood sugar spikes. Best of all? These tasty treats are ready on the spot - no waiting or baking time required!
Instructions
1

Slice dates, being careful to keep one side of the date intact instead of splitting it into two separate pieces. This will create a well to stuff your date with nut butter.

2

Add peanut butter, chia seeds, hemp hearts, sunflower seeds and cinnamon to a small bowl and stir to combine.

3

Fill each date with 1-2 tsp of seedy nut butter mixture.

4

Top stuffed dates with optional toppings or serve as is. Enjoy immediately! Store leftovers in the refrigerator for 1 week or the freezer for 1 month.

5

Substitutions: You can use any nut butter you prefer. If you are nut free you can use sunflower butter or tahini instead of peanut butter.

6

Optional toppings: Coarse salt, pumpkin seeds, and dark chocolate chips.
Notice: Content at this site is not intended to prescribe, treat, mitigate, prevent, diagnose or cure any medical condition or its symptoms, which advice should only be obtained from a qualified health professional.