Secret Ingredient Bolognese
Recipe by Julia Gibson


Ingredients
Serves 04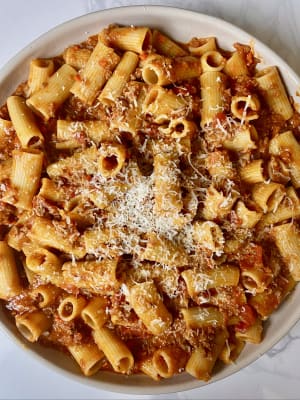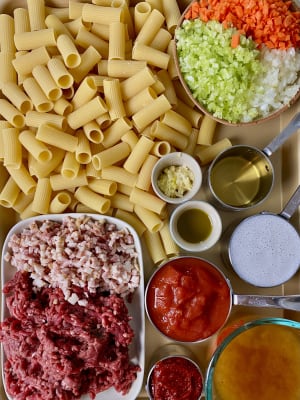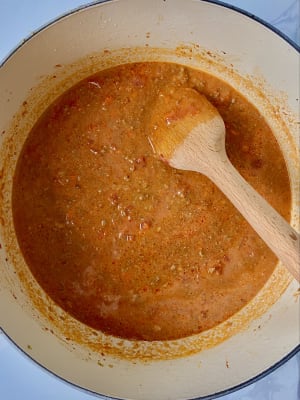 This bolognese is the perfect sneaky way to introduce nutrient-dense organ meats into your diet, especially if the taste of liver totally throws you off. The additions of bone broth and beef liver make this dish incredibly nourishing while still being super delicious and satisfying. It takes a little longer to make, but the majority of the cook time is hands-off, and the end result is totally worth it.
Instructions
1

Heat the oil in a large pot over medium heat. Add the pancetta and cook, stirring occasionally, until it begins to crisp, about 6-8 minutes. Add the chopped onion, celery, carrot and garlic and cook until vegetables are very soft and tender, another 6-8 minutes.

2

Mix the ground beef and liver and add to the pan, breaking it up with a wooden spoon. Allow the beef to brown slightly, then pour in the white wine and reduce heat to medium-low. Continue cooking and breaking the meat into very small pieces until the wine has evaporated. Add the tomato paste, bay leaf and nutmeg, and continue to cook until the tomato paste is slightly darkened, about 5 minutes.

3

Pour in the diced tomatoes, broth and milk, season with a pinch of salt and stir to combine. Reduce heat to the lowest setting and cook uncovered for about 2-2 1/2 hours until the meat is tender, stirring occasionally. If the sauce seems too dry at any point, add an extra 1/2 cup of broth. Discard the bay leaf and season with salt and pepper to taste.

4

Cook the pasta a couple minutes less than the package suggests in a large pot. Set aside 1 cup of pasta water before draining. Add the pasta to the pot of sauce along with the 1 cup of pasta water and increase the heat to medium, bringing the sauce to a simmer. Tossing constantly, cook until the pasta is al dente and the sauce has thickened.

5

Serve the pasta immediately with fresh parmesan or vegan parmesan, and salt & pepper.

6

Substitutions: Use a gluten-free or grain-free noodle; you could even try serving it with zucchini noodles for a low-carb/keto version. Substitute the bone broth for any other kind of broth.
Notice: Content at this site is not intended to prescribe, treat, mitigate, prevent, diagnose or cure any medical condition or its symptoms, which advice should only be obtained from a qualified health professional.