Seared Scallops with Pancetta
Recipe by Jaclyn Irwin


Ingredients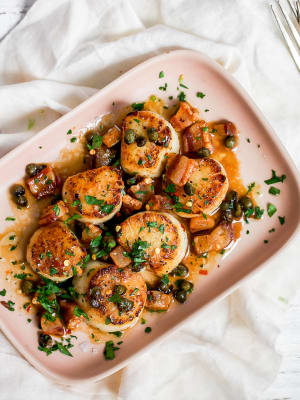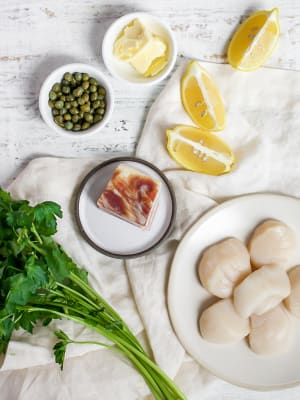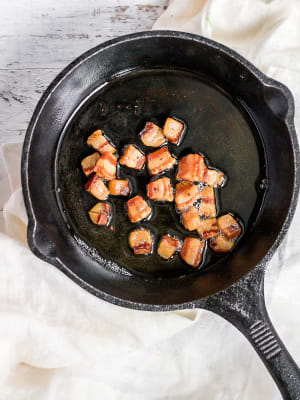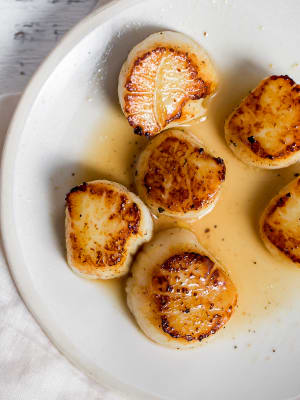 No need to be intimidated by cooking scallops! You can easily sear them in a hot cast iron pan if you follow these recommendations. Saltiness from crispy pancetta and capers are delicious with a brown butter sauce poured on top.
Instructions
1

In a medium sized skillet over medium-low heat, add the pancetta and let it cook until crispy, stirring occasionally, about 10 minutes. Remove and set aside. Wipe out the skillet.

2

In the same skillet, over medium heat, add the oil and then add the capers. Fry the capers until crispy, about 3 to 4 minutes, stirring often, then remove and set aside.

3

Ensure that the scallops are very dry and then season with salt and pepper right before cooking.

4

Turn the heat up to medium-high and add a good splash more of oil to the skillet. Add the scallops and let them sear for 2 to 3 minutes, until a deep crust is formed. Then flip and cook for 1 minute longer. During the last 20 seconds, add the butter and lemon juice and stir until the butter is melted and starting to foam. Spoon this on the scallops to baste them.

5

Remove the scallops and set them on a plate to rest for one to two minutes.

6

Plate the scallops on a serving plate, top with pancetta and capers and drizzle the sauce from the pan on top. Garnish with parsley and season with salt and pepper, to taste.

7

Substitutions: No pancetta, use bacon. No dairy, use more olive oil or ghee.
Notice: Content at this site is not intended to prescribe, treat, mitigate, prevent, diagnose or cure any medical condition or its symptoms, which advice should only be obtained from a qualified health professional.