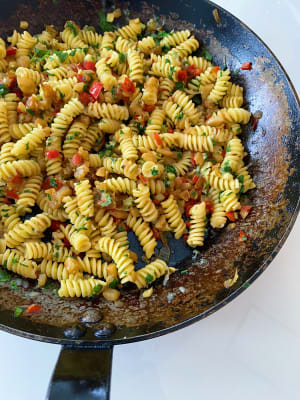 Warm up in the wintertime with this hearty chickpea and rutabaga pasta with red pepper ragu. Rutabaga provides a feeling of fullness, contains powerful compounds that fight inflammation, and may even help prevent certain cancers. The red pepper ragu is a perfect substitute for those who are sensitive towards tomatoes.
Instructions
1

Cook the pasta according to the package directions and reserve 2 tbsp of cooking liquid.

2

Heat the oil in a saute pan on medium high heat.

3

Add the onion and rutabaga and cook for 4 minutes.

4

Add the red pepper and cook for 1 minute

5

Add the miso and pasta water and cook for an additional 2 minutes.

6

Add the cooked pasta and parsley and toss to combine.
Notice: Content at this site is not intended to prescribe, treat, mitigate, prevent, diagnose or cure any medical condition or its symptoms, which advice should only be obtained from a qualified health professional.