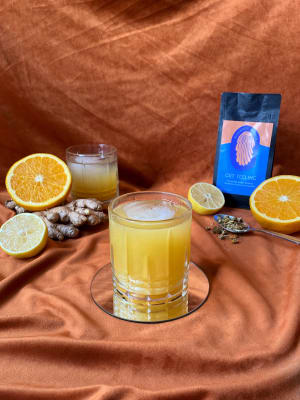 A digestif is typically an alcoholic beverage served after a meal to aid with digestion. This non-alcoholic version is made with the herbal blend Gut Feeling from the Collingwood apothecary, Rosewood + Silver. This herbal blend is perfect for post-meal bloat or any minor digestive discomfort. When paired with sweet honey, warming cinnamon, and citrus fruits, this drink will sooth more than just your tummy.
Instructions
1

Steep 1 tbsp of Gut Feeling tea, cinnamon, and honey in 4 oz of nearly boiling water for 15 minutes.

2

Strain and place in the fridge to cool for at least an hour.

3

Mix the remainder of the ingredients with the cooled iced tea.

4

Serve over ice with a citrus peel for garnish.
Notice: Content at this site is not intended to prescribe, treat, mitigate, prevent, diagnose or cure any medical condition or its symptoms, which advice should only be obtained from a qualified health professional.