Rosemary Roasted Vegetables
Recipe by Tina Gravalos


Ingredients
Serves 04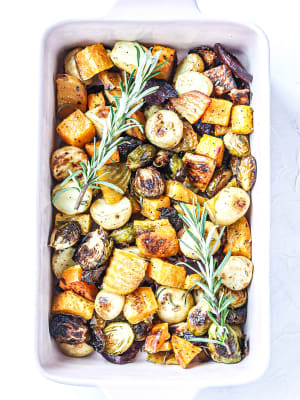 Rosemary is a powerful herb that is loaded with disease fighting antioxidants. It is so uplifting and can help boost your mood. It is an easy way to spice up your food with its bold flavours!
Instructions
1

Preheat oven to 400 degrees F and line a baking sheet with parchment paper.

2

Prepare your vegetables to your liking. You can cut each Brussels sprout in half as well as each potato. You can slice the beets and then slice each piece in half again.

3

Add the potato, Brussels sprouts, squash and golden beet to a bowl and add the olive oil. Add the salt, pepper, garlic powder, onion powder and smashed garlic. Toss to combine everything.

4

Add to baking sheet and spread out.

5

Add the red beet into the same bowl and toss in whatever is left of the olive oil mix.

6

Make some room for the red beet on the baking sheet. Mixing them in with all the other vegetables will turn them red.

7

Add rosemary sprigs on top and then back for 20 minutes.

8

At the 20 minute mark, check on the vegetables and turn them over if needed.

9

Bake for another 20 minutes or until they are cooked to your liking.

10

Taste and add more salt and pepper if needed.

11

Remove rosemary sprigs. You can even sprinkle them all over the vegetables as they will dry out from the baking. The rosemary will easily come off the stem.

12

Serve as a side with your favourite protein like steak, chicken or fish.
Notice: Content at this site is not intended to prescribe, treat, mitigate, prevent, diagnose or cure any medical condition or its symptoms, which advice should only be obtained from a qualified health professional.