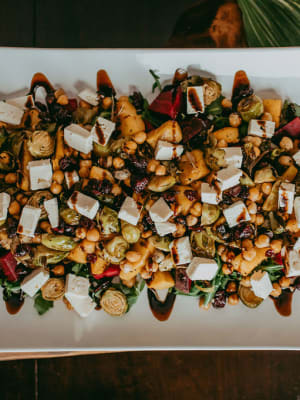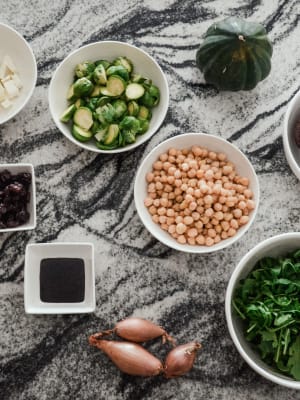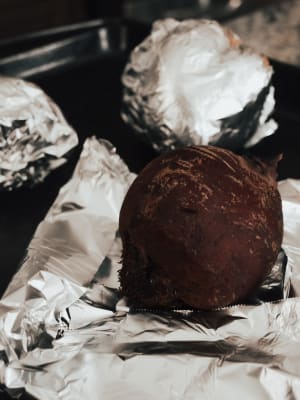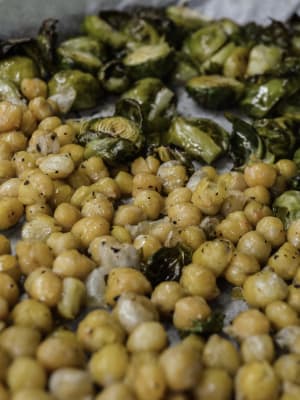 This roasted root vegetable salad is jam packed with so many nutritional powerhouse ingredients. Antioxidant-rich squash, shallots and beets are roasted until tender to bring out their sweetness. Chickpeas and brussels sprouts are roasted until crispy to add texture and provide prebiotics to support gut health. The roasted veggies are then topped with a rich balsamic reduction and salty feta cheese. However, this salad can easily remain entirely plant based by using a nut cheese instead of feta. This recipe is low in simple sugars and packed with fibre, a great choice for diabetics. And the variety of colourful, antioxidant-rich veggies makes it a great option for supporting heart health.
Instructions
1

Preheat oven to 400-degrees F. Scrub the beets thoroughly and then wrap beets individually in aluminum foil and place on a rimmed baking sheet. Bake in the over for approximately 50-minutes, until fork tender. Peel off outer layer of beet skin and then slice or chop beets into 1 ½-chunks.

2

To prepare squash, use a sharp knife to carefully cut in half lengthwise then remove seeds using a large spoon or ice cream scoop. Remove skin and chop into 1 1/2 –inch chunks. Toss squash, sliced shallots and halved brussels sprouts in olive oil, salt and pepper and roast on a baking sheet for 15-20 minutes, until tender and golden brown.

3

Pat the drained and rinsed chickpeas dry with a paper towel and then add them to a parchment-lined baking sheet and toss with olive oil, salt and pepper. Roast on the top shelf of a 400-degree F oven for 20-30 minutes, shaking every 10-minutes. The chickpeas are done when they are slightly darkened and dry on the outside but soft on the inside.

4

If using a premade balsamic glaze, skip this step. If using balsamic vinegar, follow this step to prepare a balsamic reduction. Add balsamic vinegar to a small saucepan. Bring to a gentle boil and allow to simmer for 10-15 minutes; until it thickens and is reduced by ~1/2. When the balsamic reduction is finished it should coat the side of the pan when swirled. Note: the difference between a balsamic glaze and a balsamic reduction is that a glaze will be slightly sweetened. Choose based on your preference!

5

If toasting pumpkin seeds, add them to a dry skillet over medium heat and cook for 3-5 minutes, stirring occasionally until lightly browned.

6

To serve, arrange arugula on a platter or serving bowl and top with roasted beets and squash, shallots, crispy chickpeas and brussels sprouts, pumpkin seeds, cranberries and crumbled feta cheese. Drizzle with balsamic reduction/glaze.

7

This salad can be stored covered in the fridge for 2-3 days, although it is best to keep the arugula and dressing separate until serving.

8

Substitutions: Sub roasted sweet potato for squash. Replace brussels sprouts with roasted asparagus or broccoli. Swap feta cheese for a plant-based nut cheese. Sub roasted red or yellow onion for shallots . Instead of arugula, try mixed greens or baby spinach. Sub goat cheese or your favourite cheese for feta.
Notice: Content at this site is not intended to prescribe, treat, mitigate, prevent, diagnose or cure any medical condition or its symptoms, which advice should only be obtained from a qualified health professional.