Roasted Vegetable & Red Lentil Soup
Recipe by Isra Al-Salem


Ingredients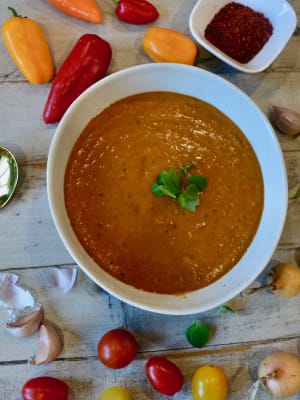 This soup is hearty, rich in vitamins, minerals and plant based protein. The added (bone) broth to the lentils enhances the gut healing profile and properties, aiding in strengthening the integrity of the stomach lining as it contains amino acids and collagen. The vibrant colourful vegetables are rich in vitamin A and C, supporting skin health, tissue formation, and immunity. The spices are anti-inflammatory and aid in digestion. Lentils are rich in iron and folate, a source of plant based protein that supports heart health and improves blood sugar dysregulation.
Instructions
1

Place garlic and vegetables on a greased roasting pan with a sprinkle of salt and pepper. Drizzle olive oil onto the vegetables and grill or roast at 350 F for 20-25 minutes until golden brown

2

While the vegetables are roasting, turn the stove on high. In a pot, place lentils and add enough broth to the lentils. Allow it to come to a boil and cook lentils for about 20 minutes

3

Add dried onions to the pot of lentils, then continue to cook together for another 10 minutes. Continue to stir the pot every little while in order to avoid the lentils from sticking together or to the pot

4

Add roasted vegetables to the pot and boil for 5-10 minutes

5

Using an immersion hand blender or regular blender puree the vegetables and lentils together until smooth or to your desired consistency

6

Slowly add water to the pot and mix

7

Add spices and salt and pepper to taste

8

Garnish with fresh herbs and a lemon wedge for extra zest or drizzle a thin layer of garlic tahini or thinned out yogurt on top. Eat with a handful of croutons or crispy pita chips
Notice: Content at this site is not intended to prescribe, treat, mitigate, prevent, diagnose or cure any medical condition or its symptoms, which advice should only be obtained from a qualified health professional.