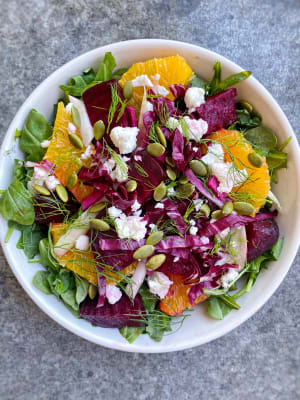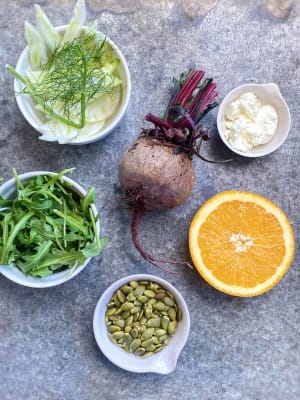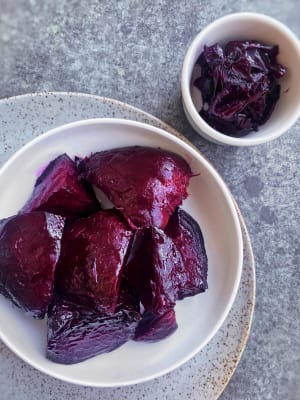 This is the perfect spring salad, fresh, peppery but still has a little warmth from the beets. If the beets are made ahead of time this salad can be put together in under 10 mins
Instructions
1

Preheat oven to 400°. Add a drizzle of olive oil and wrap each beet in foil and place on a baking sheet. Roast until tender (you can insert a fork or knife through the foil to test), about 1 hour. Let sit until cool enough to handle, then peel and cut into wedges.

2

Meanwhile, make vinaigrette: In a jar, shake together olive oil, vinegar, maple syrup, and Dijon until fully combined. Season with salt and pepper.

3

Place arugula in a large serving bowl and lightly dress with vinaigrette. Top with beets, fennel, sliced orange, goat cheese, and pumpkin seeds.

4

Substitutions: Omit goats cheese for a dairy free option. For a lower sugar option, make a dressing that is just lemon juice and olive oil. For more protein add chicken.
Notice: Content at this site is not intended to prescribe, treat, mitigate, prevent, diagnose or cure any medical condition or its symptoms, which advice should only be obtained from a qualified health professional.