RilyxRawcology Vegan Blueberry Muffins
Recipe by Tina Gravalos


Ingredients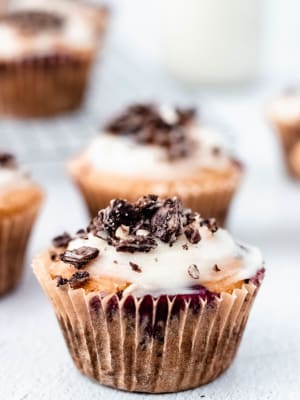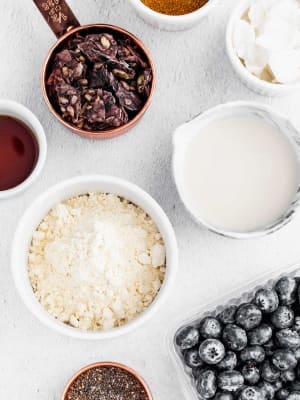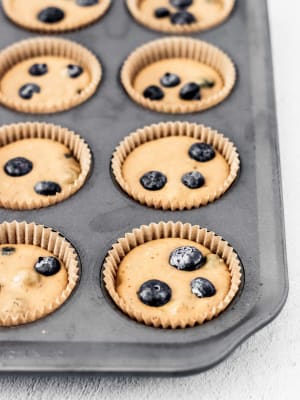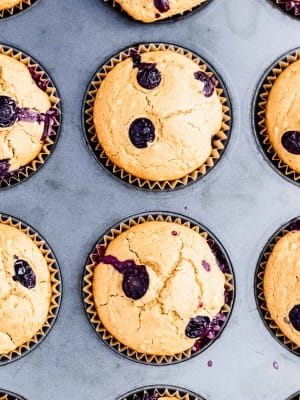 The smell of blueberry muffins baking is truly a treat for your nostrils! Topped with an easy to whip up coconut butter icing and Blueberry with Acai Raw Crunch Granola. Your taste buds will be doing a happy dance after you eat one, or two.
Instructions
1

Preheat oven to 350 degrees F and line a muffin tray with paper muffin liners.

2

In a large bowl, combine oat flour, coconut flour, baking powder, sea salt and cinnamon.

3

In a small bowl, combine oat milk, coconut yogurt, maple syrup, lemon juice and vanilla.

4

Pour the wet ingredients into the dry ingredients and mix to combine.

5

Fold in 1 cup blueberries.

6

Using an ice cream scooper or a spoon, add batter into each muffin liner. Fill each cup about ¾ of the way. The muffins will rise.

7

Top each muffin with remaining ⅓ cup of blueberries (2-3 blueberries per muffin).

8

Bake for 20-22 minutes or until you can put a toothpick in and it comes out with very few crumbs on it. It doesn't have to be super clean!

9

Let cool for at least 15 minutes before adding coconut butter icing and topping with granola.

10

These can be stored on the counter or in a cupboard in an air-tight glass container for up to 3 days.

11

Coconut Butter Icing: In a small saucepan, on low heat, add the coconut butter, filtered water, vanilla and maple syrup.

12

Stir continuously until the coconut butter is melted and thickens up like an icing.

13

Decorate your muffins: Using a knife or a sauce brush (I find this worked really well, if you have one), slather the muffins with the coconut butter icing.

14

Add ½ a cup of Blueberry with Acai Raw Crunch Granola to a mortar and pestle (or you can use your hands) and lightly crush it so you have some smaller crumbly pieces.

15

Top each muffin with granola crumble.

16

Note: Make the coconut butter icing when you're ready to decorate your muffins. You'll want to ice the muffins right away so the icing doesn't harden.

17

You can make your own oat flour by adding 1 1/3 cup rolled oats to a high speed blender or food processor. Blend/process until you get a fine flour. If you have any leftover flour, save it for another recipe.
Notice: Content at this site is not intended to prescribe, treat, mitigate, prevent, diagnose or cure any medical condition or its symptoms, which advice should only be obtained from a qualified health professional.