RilyxRawcology Buffalo Chickpea Sweet Potatoes
Recipe by Tina Gravalos


Ingredients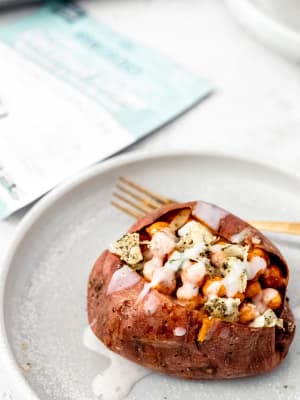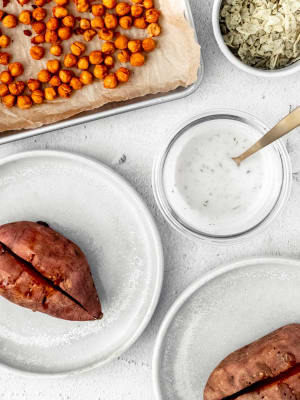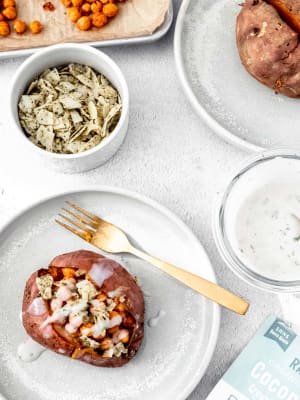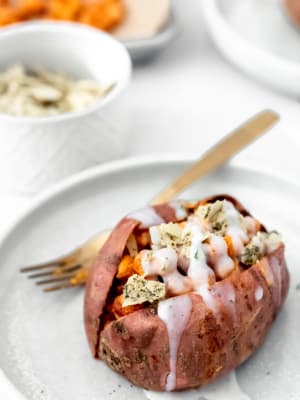 There is so much fun to be had with stuffed sweet potatoes! The buffalo chickpeas give the potatoes a little kick while the ranch sauce helps to cool things down. It's the perfect match!
Instructions
1

Preheat oven to 400 degrees F and line a large baking sheet with parchment paper.

2

Place sweet potatoes on one side of the baking sheet, spread apart.

3

Lightly poke each sweet potato with a fork in 3-4 different spots.

4

Bake for 45-50 minutes or until soft and you can stick a fork through easily.

5

While the sweet potatoes are baking, drain and rinse the chickpeas. Add them to a mixing bowl and use a paper towel to pat them dry.

6

Add 1 teaspoon of olive oil, salt, pepper, hot sauce and mix to combine.

7

Around the 20-25 minute mark, spread chickpeas out on the other side of the baking sheet. Bake for 20 minutes.

8

In a blender, add the cashews, 2 tablespoons of olive oil, lemon juice, garlic powder, onion powder, water and blend until smooth.

9

Add the paprika, parsley, dill and blend for about 5 seconds. You want to still see some speckles of the dill and parsley.

10

On a plate, cut one sweet potato down the middle, about ¾ of the way down so that it doesn't completely come apart.

11

Stuff with ⅓ cup chickpeas (or more) and 2 tablespoons Rockin' Ranch Coconut Chips.

12

Drizzle with vegan ranch sauce and repeat with the remaining 3 sweet potatoes.

13

Store any leftovers in an airtight container in the fridge for up to 3 days.

14

Note: Soak cashews in filtered water for at least 30 minutes to 1 hour. Dump the water out before you use them.

15

Use chickpeas that do not have any added salt.
Notice: Content at this site is not intended to prescribe, treat, mitigate, prevent, diagnose or cure any medical condition or its symptoms, which advice should only be obtained from a qualified health professional.