Rily x StellarEats Strawberry Shortcakes
Recipe by Julia Gibson


Ingredients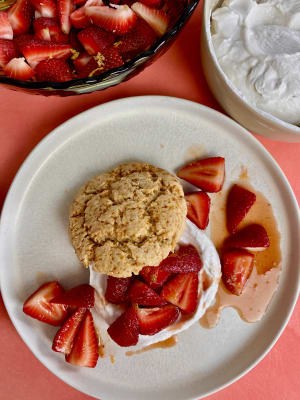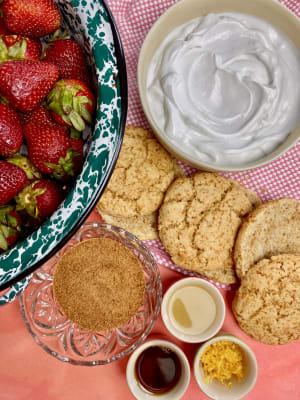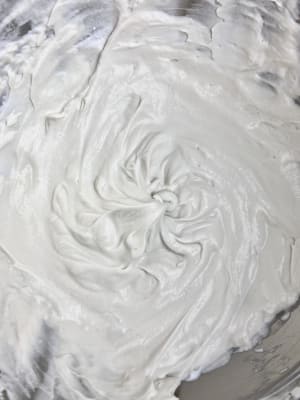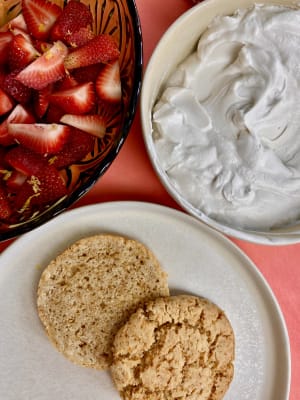 The perfect summer dessert that looks quite impressive, but is insanely simple to make. Stellar Eats Biscuit + Scone Mix transforms into coconut sugar speckled shortcakes that get sliced in half and filled with creamy coconut whipped cream and sweet lemony macerated strawberries.
Instructions
1

Preheat your oven to 350 degrees Fahrenheit and line a large baking sheet with parchment paper.

2

Whisk the egg, 1 tablespoon of lemon juice, oil and water together. Stir in 3 tablespoons of coconut sugar and 1/2 the lemon zest.

3

Add the package of Stellar Eats Biscuit + Scone Mix, and mix until combined and uniform. Do not over mix.

4

Oil your hands slightly and gently shape pieces of dough into 8 equal rounds. So not flatten too much as dough will not spread or rise while baking.

5

Transfer to the prepared baking sheet and bake for 25-30 minutes until slightly golden. Remove from oven and transfer to a wire rack to cool.

6

While the shortcakes bake, prepare your strawberries and whipped cream. Place the cut strawberries in a medium bowl along with 3 tablespoons of lemon juice, the remaining lemon zest and 4 tbsp of coconut sugar. Toss to combine, and set aside at room temperature until ready to serve.

7

Spoon the thick cream from the chilled cans of coconut milk in the bowl of a stand mixer, or a large bowl if using an electric hand mixer. Beat on medium until smooth and creamy.

8

Add in the maple syrup and vanilla extract and continue beating on medium until the ingredients are fully combined and creamy. Cover and chill until ready to serve.

9

To serve, carefully slice each shortcake in half. Top the bottom half with some whipped cream, then the macerated strawberries and a drizzle of the juices from the bowl of strawberries. Place the top half on the shortcakes on top to close.

10

Notes: You can replace the lemon with any other citrus. Substitute the strawberries with any other berry or stone fruit like peaches or cherries. Use regular whipping cream if you'd prefer.
Notice: Content at this site is not intended to prescribe, treat, mitigate, prevent, diagnose or cure any medical condition or its symptoms, which advice should only be obtained from a qualified health professional.