Rily x Stellar Eats Pancake Tacos with Chorizo
Recipe by Jaclyn Irwin


Ingredients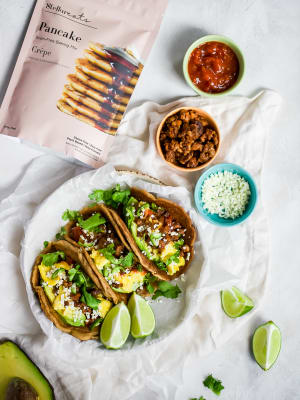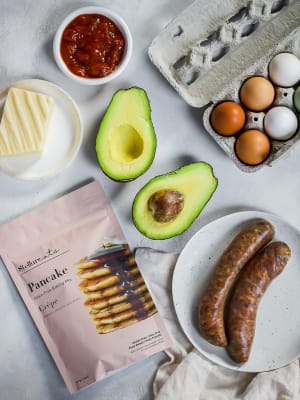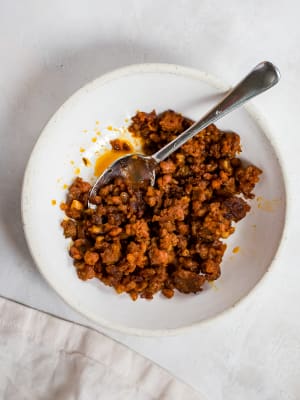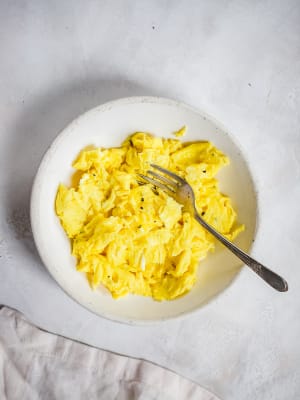 Skip the tortillas for a filling pancake taco instead. Stuff them with crispy chorizo sausage, soft scrambled eggs, salsa and avocado. These pancake tacos are a delicious grain-free option using Stellar Eats pancake mix. This is great for low sugar, gluten-free and grain free diets and conditions.
Instructions
1

Make the flax egg by combining the flax seeds and water in a small bowl and set aside to thicken for two minutes.

2

In a medium sized bowl, add the water, avocado oil and the flax egg and stir. Add the Stellar Eats pancake mix and whisk to combine.

3

Heat a small skillet over medium heat. Once hot add the chorizo sausage and let it brown for a few minutes without stirring. Then stir and continue cooking for another 5 minutes or so until cooked through. Remove and set aside. Wipe out the skillet.

4

In a large skillet, add a spray of avocado oil. Add ⅓ cup of the pancake mix and cook until bubbles start to form, about 2 to 3 minutes. Flip and press down and cook the other side until browned. Remove and set aside on a baking sheet and keep warm in the oven while you make the remaining pancakes.

5

In the same skillet used to make the sausage, over medium-low heat, add the butter. Whisk the eggs in a small bowl and add to the skillet once warm. Cook for three to four minutes, turning as needed with a spatula, until just cooked through and still soft. Remove and set aside in a small bowl.

6

Assemble the tacos by adding sliced avocado, eggs, chorizo, salsa and topping with cheese and cilantro. Enjoy!

7

Substitutions: No pork, you can use any type of sausage. No dairy, you can use dairy free cheese or omit completely. If you can't find or don't like Cojita cheese you can use feta instead.
Notice: Content at this site is not intended to prescribe, treat, mitigate, prevent, diagnose or cure any medical condition or its symptoms, which advice should only be obtained from a qualified health professional.