Rily x Stellar Eats Mushroom Crepes
Recipe by Jaclyn Irwin


Ingredients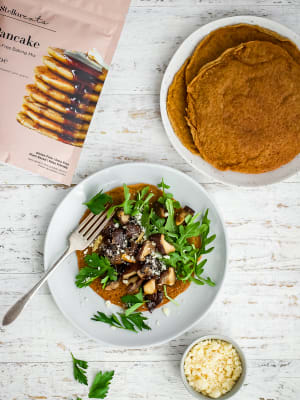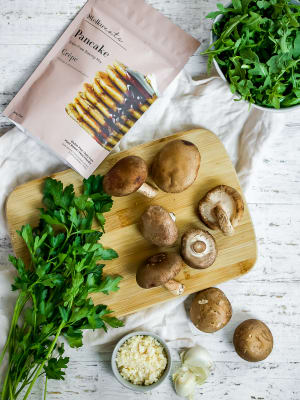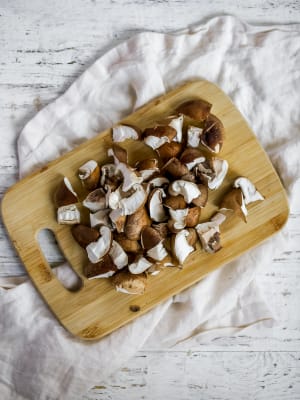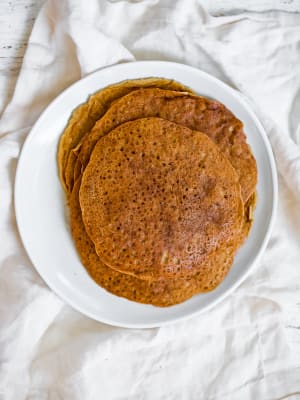 A savory crepe topped with browned mushrooms, fresh arugula, parsley and parmesan. These crepes are a great grain-free option using Stellar Eats pancake mix. This is great for low sugar, gluten-free, vegetarian, kosher and grain free diets and conditions.
Instructions
1

Preheat the oven to 400ºF.

2

Make the flax egg by combining the flax seeds and 3 tbsp water in a small bowl and set aside to thicken for two minutes.

3

In a medium sized bowl, add 1.25 cups water, avocado oil and the flax egg and stir. Add the Stellar Eats pancake mix and whisk to combine.

4

In a large cast iron skillet, add the olive oil and the mushrooms, garlic and salt. Place in the oven to cook for 15 minutes, until browned and cooked.

5

Meanwhile, heat a large skillet over medium heat and spray with cooking oil. Pour in about ⅓ cup of the pancake batter and swirl the skillet to make a thinner crepe. Let it cook for about three minutes until little bubbles form. Flip the crepe and cook another two minutes until browned. Remove and place on a baking sheet and place in the oven to keep warm. Repeat with the remaining batter.

6

Once all crepes are cooked, assemble. Top with mushrooms, arugula, parsley and parmesan. Season with salt and pepper.
Notice: Content at this site is not intended to prescribe, treat, mitigate, prevent, diagnose or cure any medical condition or its symptoms, which advice should only be obtained from a qualified health professional.