Rily x Stellar Eats Mediterranean Pesto Pizza
Recipe by Tina Gravalos


Ingredients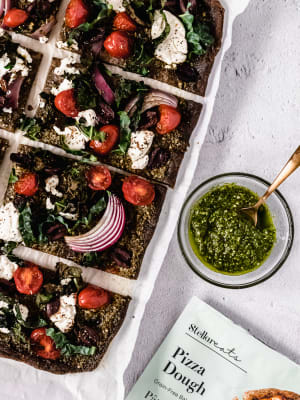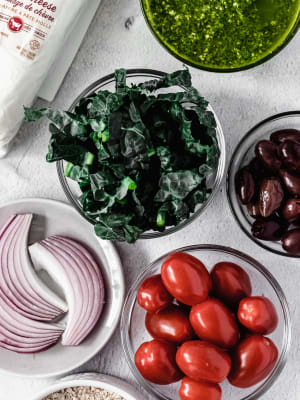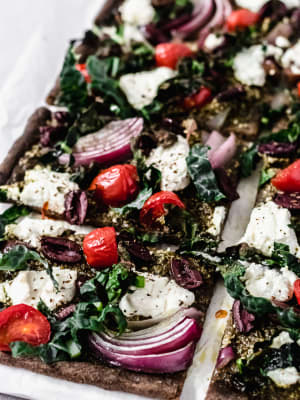 Mediterranean flavours combined onto a pizza, doesn't get any better! We love the Mediterranean diet over here because of its emphasis on plant-based whole foods and healthy fats.
Instructions
1

Add your basil, pine nuts, nutritional yeast, olive oil, garlic, lemon juice and sea salt to a food processor or blender and blend until you reach your desired consistency. Add a tablespoon or two of water if needed to thin out. Pour into a bowl and set aside.

2

Preheat oven to 400 degrees F and line a baking sheet with parchment paper.

3

Follow the instructions on the package to create your dough.

4

Bake for 12 minutes without the toppings. Remove from the oven and add ½ cup of pesto, sliced onion, goat cheese, tomatoes, olives, shredded kale and sprinkle oregano all over.

5

Bake for another 10-12 minutes. Cut the pizza into 8 slices and serve.

6

Store leftovers in an airtight container in the fridge for up to 3 days.

7

Dairy-free: Use vegan cheese or omit completely.
Notice: Content at this site is not intended to prescribe, treat, mitigate, prevent, diagnose or cure any medical condition or its symptoms, which advice should only be obtained from a qualified health professional.