Rily x Stellar Eats "Fried" Chicken Biscuit Sandwich
Recipe by Julia Gibson


Ingredients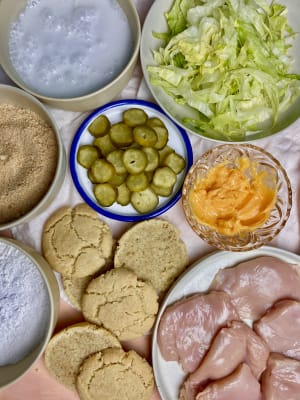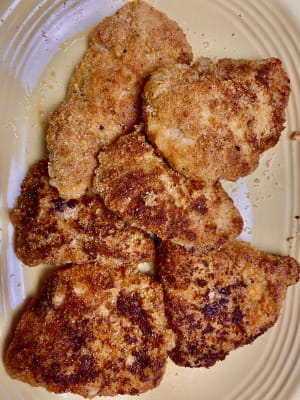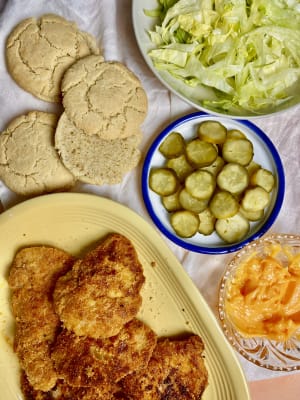 Your favourite fried chicken sandwich, but make it grain free. Tender paleo biscuits made using Stellar Eats Biscuit + Scone Mix get filled with crispy almond flour coated chicken, crunchy shredded lettuce, classic dill pickles and hot honey butter for a sweet kick of heat. The perfect meal for comfort and nourishment.
Instructions
1

Preheat your oven to 350 degrees Fahrenheit and line a large baking sheet with parchment paper.

2

In a large bowl whisk the egg, apple cider vinegar, oil and water together. Add in the package of Stellar Eats Biscuit + Scone mix, and stir until combined and uniform. Do not over mix.

3

Oil your hands slightly and gently shape pieces of dough into 6 equal rounds. Do not flatten too much as the dough will not spread or rise when baking.

4

Transfer to the prepared baking sheet and bake for 25-30 minutes, until slightly golden. Remove from the oven and transfer to a wire rack to cool completely.

5

Prepare the chicken: Season both sides of each piece of chicken with salt. Mix together the almond flour, sea salt, smoked paprika and garlic powder in a bowl. Pour the milk into another bowl, and the arrowroot flour into a third bowl.

6

One at a time, coat the pieces of chicken in the arrowroot flour, patting off the excess. Next into the milk and then into the almond flour mixture making sure each thigh is fully coated. Set on a plate and repeat with the remaining chicken.

7

Pour 1/4 cup of olive oil into a large, heavy bottomed skillet and heat over medium-high heat. Once hot, add the chicken 2-3 pieces at a time to the pan and fry for 3-4 minutes per side until light golden brown. Transfer to a wire rack set over a paper towel lined sheet pan and season lightly with salt. Repeat with the remaining chicken.

8

Mix together the soft butter, honey and hot sauce until smooth and creamy. Cut open the cooled biscuits, smear each cut side with hot honey butter and layer the chicken, shredded lettuce and pickles on the bottom half of the biscuit. Top with the other half and enjoy!

9

For a vegetarian option you can replace the chicken with firm tofu or another plant based chicken substitute.
Notice: Content at this site is not intended to prescribe, treat, mitigate, prevent, diagnose or cure any medical condition or its symptoms, which advice should only be obtained from a qualified health professional.