Red Lentil Patties with Cauliflower
Recipe by Julia Gibson


Ingredients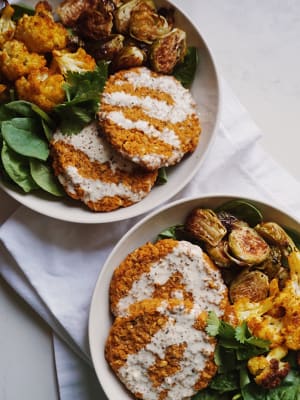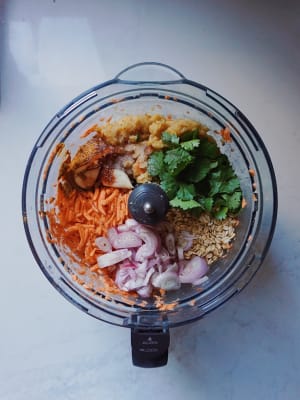 Serves 4-6
Instructions
1

Make the Patties: Cook the red lentils according to the packaging (simmer in 2 cups water until tender, 20-25 minutes), then set aside to cool for 20 minutes. Preheat oven to 350 degrees fahrenheit, and line a large baking sheet with parchment paper. Combine the cooked red lentils and the rest of the patty ingredients into a food processor and pulse 15-20 times, or until the mixture in slightly chunky and all the ingredients are well incorporated, stopping to scrape down sides as needed. Transfer mixture to a bowl. If it's too wet, add a couple tablespoons of oat, buckwheat or any flour; it should be damp but hold its shape. Measure out 1/3 cup of the mixture and form into a patty, continuing with the rest of the mixture until you get around 15 patties. Bake them for 25-30 minutes or until golden brown.

2

Roasted Vegetables: Preheat oven to 400 degrees fahrenheit and line 2 baking sheets with parchment paper. In one large bowl, combine the cauliflower ingredients, and in another, combine the brussels sprouts ingredients. Pour them onto separate trays and bake for 25-30 minutes, tossing the vegetables and switching the trays between oven racks halfway through. Vegetables should be tender, but golden and crispy on the outside.

3

Make Lemon Tahini Sauce: Meanwhile, add the lemon juice, tahini, olive oil, garlic, salt and pepper to a food processor, blending to combine. Slowly begin to add water to thin out the sauce to your desired consistency.

4

Plate: Add 2 big handfuls of spinach to a plate/bowl and top with 2 patties, some roasted vegetables, lemon tahini sauce and cilantro. Top with fresh cracked salt and pepper.

5

Notes: You can add more spice to patties if you want them to be spicier. Sub cilantro for parsley. Use any leafy green in place of spinach. Store leftover patties in an airtight container in the fridge for up to 5 days. Patties are great as burgers, in wraps and sandwiches.
Notice: Content at this site is not intended to prescribe, treat, mitigate, prevent, diagnose or cure any medical condition or its symptoms, which advice should only be obtained from a qualified health professional.