Prosciutto Wrapped Asparagus Salad
Recipe by Tina Gravalos


Ingredients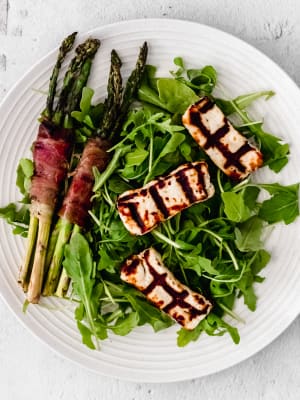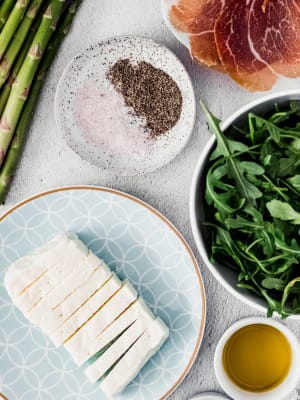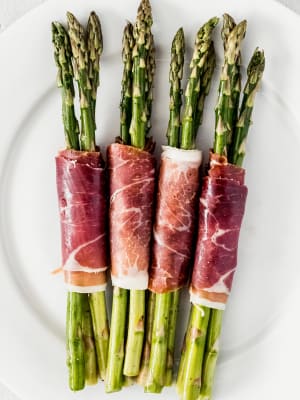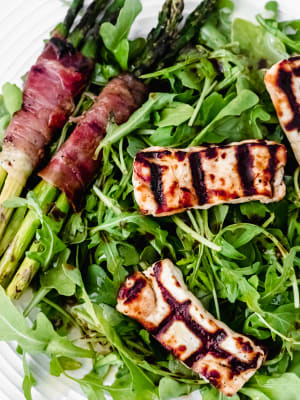 Sign me up for anything wrapped in prosciutto! Add grilled halloumi into the mix and its game over. The combination of the saltiness with the slight bitterness of the arugula is a really fun combo. I love using arugula as a salad green because it is a bitter green which is great for supporting your liver to naturally detox. Prosciutto can absolutely be a part of a healthy balanced diet. Unlike other meats you find at a deli, prosciutto is usually made with just the pork and sea salt. Your best bet is to pick some up from a local butcher for the best quality.
Instructions
1

Heat your grill to about 400 degrees F.

2

Cut ½ - 1 inch off the ends of the asparagus.

3

On a plate, place one piece of prosciutto down then place 3 asparagus spears on top. Starting from the bottom, roll the prosciutto with the asparagus until it's fully wrapped around.

4

Brush 2 tablespoons of olive oil onto the wrapped asparagus. Set aside.

5

Cut halloumi into approx. ⅓ inch slices.

6

Place the wrapped asparagus and halloumi on the grill.

7

Grill the wrapped asparagus and halloumi for 3-4 minutes per side or until desired doneness.

8

In a large bowl, add the arugula, 2 tablespoons of olive oil, balsamic vinegar, black pepper and toss to combine.

9

To serve, divide the arugula salad onto plates. On each plate, add 2 wrapped asparagus and 3 pieces of grilled halloumi.

10

Notes: The prosciutto and halloumi are salty on their own. You don't need to add any more salt.

11

If you have thicker asparagus, you can use 1-2 to wrap in prosciutto. This recipe was tested using thinner asparagus spears.
Notice: Content at this site is not intended to prescribe, treat, mitigate, prevent, diagnose or cure any medical condition or its symptoms, which advice should only be obtained from a qualified health professional.